Exports of agro – forestry and aquatic products in the first ten months of this year earned the country 20.8 billion USD, up 34.5 percent over the same period of last year.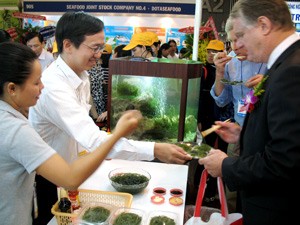 Foreign visitors at the 2011 Vietfish International Exhibition try grape seaweed at a Vietnamese booth. The annual show, held in Ho Chi Minh City every June, is Vietnam's biggest fisheries trade fair. (Photo: Tuong Thuy)
According to the Ministry of Agriculture and Rural Development, Vietnam exported 6.5 million tonnes of rice worth 3.3 billion USD in the 10-month period, up 11.6 percent in volume and 20.3 percent in value. Indonesia continues to be the biggest importer of Vietnam's rice, with a 3.4-fold increase in volume and a 2.8-fold increase in value year-on-year.
Rubber was one of the best performers, earning 2.6 billion USD, surpassing the total figure of last year by 300 million USD.
More than 1 million tonnes of coffee beans were also sent abroad during this period, earning 2.3 billion USD.
Seafood export value was worth 4.95 billion USD, up by 23.2 percent against the same period last year.
Forest products and wooden furniture brought the country 3.4 billion USD, representing a year-on-year rise of 16.2 percent.