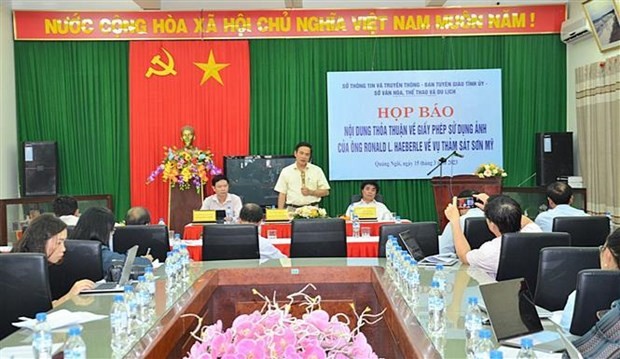 At the event (Photo: VNA)

The massacre happened on March 16, 1968, taking the lives of 504 civilians, including many children and women. Ronald L. Haeberle's images of the incident were published on the US's Life magazine in 1969.
On March 8, the provincial People's Committee signed an agreement with the photographer on the license to use and display photos of Son My massacre at the Son My memorial site with the caption "Photos taken by Ronald L. Haeberle".
On March 7, the US photographer and international friends returned to Son My, an area in Tinh Khe commune of Quang Ngai city, where he took 60 pictures of the mass killing by US troops 55 years ago.
On March 16, 1968, US troops stormed Son My village with the aim of killing all and destroying all. Within just four hours, 504 civilians there, including 17 children and 182 women, were slaughtered. The incident went down in history as a piercing pain of people in Son My and Vietnam as a whole.