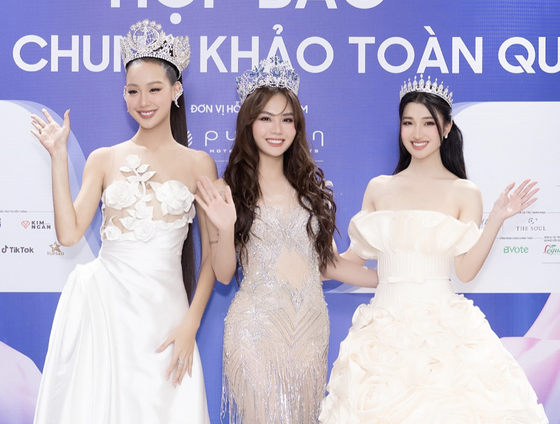 Miss Intercontinental 2022 Bao Ngoc (L), Miss World Vietnam 2022 Huynh Nguyen Mai Phuong and the second runner-up title at Miss World Vietnam 2022, Phuong Nhi (R)
The beauties will show their talent to compete for minor titles, including Miss Tourism, Miss Talent, Miss Sport, Miss Sea, and Beauty with a Purpose.
Additionally, contestants will participate in exchanges promoting historical sites and tourist destinations of the country.
In the competition of "Miss Tourism", contestants will create video clips to promote images of the country on social networks. Five with the best performances will have an opportunity to join the tourism advertising activities of Binh Dinh Province.
They will also implement from four to six inspirational community projects to get the "Beauty with a Purpose" award.
On the same day, Miss World Vietnam 2022 Huynh Nguyen Mai Phuong launched her fashion brand, "Yako by Mai Phuong", a nonprofit aiming at raising funds for charity projects.
In addition, Phuong and associates plan to establish laundry services located near hospitals in HCMC to create jobs for relatives of poor patients with long-term treatment.
The 2023 Miss World Vietnam beauty contest was kicked off in HCMC on March 29. The final night is scheduled to take place in Quy Nhon City in the central coastal province of Binh Dinh in July.
The Miss World Vietnam beauty contest was held for the first time in 2019, aiming at looking for a Vietnamese representative for the Miss World beauty pageant. Women aged 18 to 27 who are at least 1.65m tall and have had no cosmetic surgery are eligible to enter the contest. Participation is limited to unmarried women who have never given birth or parented a child.
Images of beauties shortlisted for 2023 Miss World Vietnam: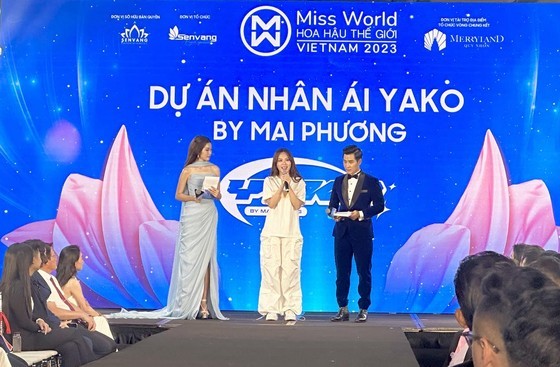 Miss World Vietnam 2022 Huynh Nguyen Mai Phuong launches her fashion brand, "Yako by Mai Phuong", a nonprofit aiming at raising funds for charity projects. (Photo: SGGP)