Christmas festive atmosphere is trickling into every corner of the country, with Catholics and Protestants holding a range of festivities in celebration of the holiday.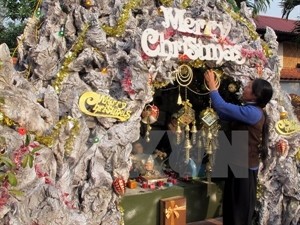 In Ninh Binh (Source: VNA)
In the northern provinces of Nam Dinh, Hoa Binh and Hai Duong, Catholic followers and youngsters flocked to churches and streets to enjoy holy rituals and music performances.
While in Kim Son district, the northern province of Ninh Binh, Catholics and visitors are streaming into the well-known stone church of Phat Diem , which is sparkling with thousands of lights.
In the central city of Thanh Hoa, thousands of Catholics and locals braved the chilly winter temperature to gather around dazzling churches and entertainment areas, in anticipation of the Christmas Eve.
Meanwhile, in the central city of Da Nang, a solemn ceremony was held to celebrate the event, expected to bring a merry and warm Christmas to all local parishioners.
In the "city of thousands of flowers" Da Lat in the Central Highlands province of Lam Dong, churches and parishes are decked out with lights, pine trees, flowers and decorations, luring tens of thousands of local believers and tourists at home and abroad.
The festival "colours of winter" is also a highlight closing the 2014 National Tourism Year and ringing in the new year.
The Central Highlands provinces of Gia Lai and Kon Tum also welcomed large numbers of revellers coming for shopping and praying.
Resorts and hospitality facilities in Mui Ne, the central province of Binh Thuan , offered Christmas and New Year parties as a draw for tourists, with buffets, music shows, dancing and gift-giving. Many of them are packed to full capacity.
Over 1,500 Russian visitors are there to welcome the holiday, compared to 41,000 foreigners hailing from other countries.
The Christmas atmosphere is also overwhelming the southern economic hub of Ho Chi Minh City , with streams of people flooding well-decorated churches, parishes and streets.