Bui Cach Tuyen, Deputy Minister of Natural Resources and Environment discussed the pollution being caused by craft villages and industrial parks in an online meeting on October 26.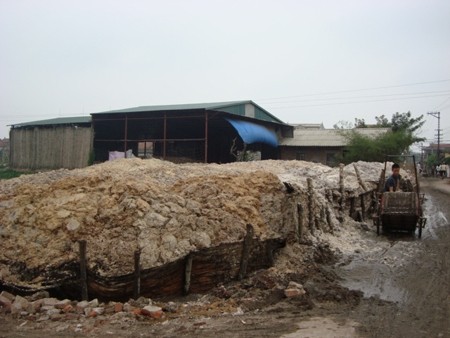 Duong Lieu craft village
Dr. Nguyen Van Phuong from Hanoi Law University said that it is necessary to close some polluting workshops in craft villages.
City authorities have also been speeding up priority projects on environmental protection in craft villages.
Vu Quoc Tuan, Chairman of the Vietnam Handicrafts Village Association, said that during the past several years many factories in craft villages have been violating environmental protection regulations. However, authorities have not penalized the violators nor have they found solutions to eliminate the problem from its root cause.
The city has kicked off many projects dealing with the pollution in craft villages, but stress that the problems cannot be settled overnight.
Much criticism has been raised against local authorities every time research institutes release reports on environmental protection.
The latest survey conducted by the Hanoi University of Technology shows that 100 percent of the samples taken of waste water from craft villages have concentrated toxic contents, higher than permissible limits. Both surface and underground water levels are polluted. None of the craft villages has been found stipulating environment protection law.