Nearly 400 photos were honoured at the 8th International Artistic Photo Contest in Viet Nam 2015 held in Ha Noi on December 3rd.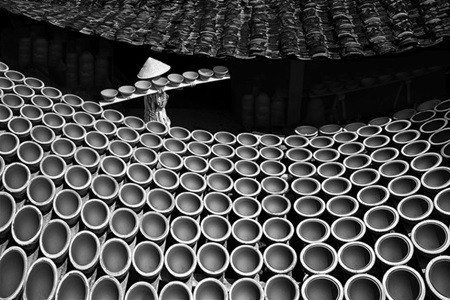 Truyen thong (Traditional) of Tran Dinh Thuong. — Photo CGAP
Running from May 15 to September 19 by the Viet Nam Artistic Photographers' Association (VAPA) under the sponsorship of the International Federation of Photographic Art (FIAP) and the Image sans Frontiere (ISF), the contest received nearly 9,700 photos from professional and amateur photographers from 31 nations and territories.
This year, the photos were divided into four categories, including open, women and work, sublimated moments and still life.
In the first category, the photos entitled Take Me Home by Abdulla AL-Mushaifri from Qatar and Tuoi gia (The Old Ages) by Viet Nam's Tran Dinh Thuong won the gold medal.
In the second class, Tea for Me by Ravindra Ranasinghe from Sri Lanka and Nhat thoc (Pick up Rice) by Tong Tran Son of Viet Nam won gold.
In the sublimated moment category, the gold medals went to The Peek by Paolo Tavaroly (Italy) and Thang hoa (Sublimation) by Nguyen Trung Kien (Viet Nam) while Nguyen Le Phuong and Nguyen Vu Phuoc triumphed in the still life category.
The awarded photos are on display until the end of this month at the Viet Nam photos exhibition centre at 25D, Dich Vong Hau new urban zone, Cau Giay Dstrict, Ha Noi.