The Vietnamese tra fish exports and those of many other Siluriformes fish will have to struggle with the American Department of Agriculture (USDA)'s final inspection rule, said Truong Dinh Hoe, General Secretary of the Viet Nam Association of Seafood Exporters and Producers (VASEP).
He made this statement in a VASEP's meeting on Tuesday.
"The USDA's final rule is contrary to WTO principles," Hoe said.
"American exporters and customers will not be entitled to select the product they want, following the final rule," he added.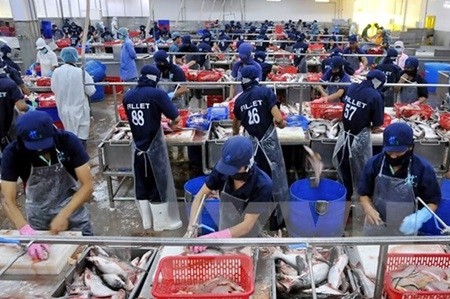 Catfish is processed at Hung Ca Company in Cao Lanh City of Dong Thap Province. Viet Nam's fish exports will face strict inspections by the USDA. — VNA/VNS
The final rule, released by the USDA's Food Safety and Inspection Service (FSIS) on November 25, will be applied on both locally raised and imported Siluriformes fish. The rule has been formulated to implement provisions of the 2014 Farm Bill. The rule will become effective in March 2016, 90 days after it is published in the Federal Register.
From March 2016, an 18-month transitional implementation period for both domestic and international producers will begin, and all Siluriformes fish, including catfish, will be under the regulatory jurisdiction of FSIS and not the United States Food and Drug Administration (FDA).
Hoe said that currently, Vietnamese tra fish when exported to the US had been controlled by the regulations of FDA.
But following the new rule, FSIS would examine all processes in creating fish products from selecting seed to final product, Hoe said.
Besides, Viet Nam must provide a list of establishments that currently export, as well as written documentation of their regulatory authority and compliance with existing FDA import requirements before March, 2016, according to Hoe.
The transitional period of the final rule is too short for Vietnamese enterprises, according to Nguyen Phuoc Buu Huy, Deputy General Director of CADOVIMEX II Export Processing AND Fisheries JSC.
"It's too short a time for Vietnamese enterprises to research and operate correctly to meet the high demand from the US," he said at the meeting.
Some companies may not understand clearly the implementation of the final rule, he added.
Deputy Chairman and General Secretary of Viet Nam pangasius Association Vo Hung Dung said the rule may cause Vietnamese enterprises to lose the US tra fish market, which accounted for 20 per cent of Vietnamese tra fish export value.
John P. Connelly, President of the National Fisheries Institute (NFI) of United States, said to Vietnamese Television (VTV) that the challenge for Vietnamese enterprises would be large.
This was an attempt to prevent the export of catfish from Viet Nam and other markets to the US.
Viet Nam might take years to meet the new regulation as the regulation of FSIS was very different from the FDA regulation, he said.
Expand export markets
In the future, VASEP would introduce to businesses the difference of the FSIS and FDA regulation, as well as the new requirements of FSIS, Hoe said.
In particular, Vietnamese enterprises should actively expand export markets in order to avoid dependency on each market, Huy said.
The most important thing Vietnamese enterprises can do now was to work together with the Vietnamese government to send the message that it is unfair when the US government applies strict regulations for Vietnamese products, John P. Connelly said to VTV.
Meanwhile, two American senators have introduced a resolution of disapproval under the Congressional Review Act to nullify the USDA's final rules establishing the catfish inspection programme.
Senators John McCain and Kelly Ayotte introduced the resolution on December 8.
Under the Congressional Review Act, Congress can overturn actions by a federal agency, such as the USDA, after a rule is formally published and submitted to Congress.
If the resolution becomes law, it will nullify the new catfish inspection rules, which were published in the Federal Register on December 2, including any portions of the regulations that have already gone into effect.
"We are proud to continue the fight to repeal the USDA catfish inspection office, which is an egregious waste of taxpayer dollars and a classic example of anti-free market protectionism," McCain and Ayotte said on their website.
"Over the past several years, we've sponsored legislation to eliminate this programme and we urge our colleagues to join us in sending a message that we won't stand for this wasteful catfish inspection office," they said.