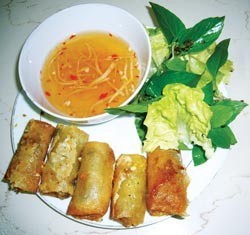 Vietnamese fried spring rolls among world's 100 most popular appetizers
Cha gio is an appetizer that can be found almost anywhere from small gatherings to big parties in Vietnam. It is made with rice paper and filled with minced pork, cooked prawns, bean sprouts or shredded jicama, wood ear mushrooms and vegetables.
The rolls are fried until golden and crispy, and then served together with lettuce and herbs, with a dipping sauce made of fish sauce, lemon and sugar.
"The rolls are quickly fried, which results in a treat with an appetizing golden color, a crisp and light outer layer, and a delectable filling," according to the magazine.It also recommended some restaurants in Ho Chi Minh City to try the dish such as Ngon Restaurant and 94 Restaurant in District 1 and Hum Vegetarian, Lounge & Restaurant in District 3.
Chinese dumplings, known as jiaozi, were named the most popular appetizer in the world, followed by kimchi of the Republic of Korea and Japan's crescent-shaped dumplings gyoza.