Director Nguyen Hoang Diep was so excited to receive an award at the 36th Film Festival of the Three Continents (France) that she sang instead of giving an acceptance speech.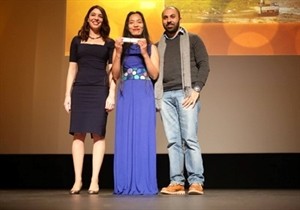 Director Nguyen Hoang Diep (centre) accepts the Special Mention award at the Nantes Film Festival of Three Continents. (Photo vnexpress.net)
Diep's film, entitled Dap Canh Giua Khong Trung (Flapping in the Middle of Nowhere), beat nine other films from Singapore, Argentina and the Republic of Korea, besides the Philippines, to win a special jury award.
Diep said that she was confused and surprised when her name and film were announced for the award. Instead of her acceptance speech, she sang a song about a poor musician who sold his only guitar to get money to marry the girl he loves.
"I don't have any guitar but I'm poor, too. One day, if all I have is a guitar or something, I will sell it to have money for filmmaking, because it's my passion," said Diep.
Her film was screened for the first time in France and was honoured with a Special Mention after it was screened six times to full houses.
The annual Film Festival of the Three Continents has been held in Nantes (France) since 1979, and is devoted to the cinemas of Asia, Africa and Latin America.
Diep's film won the Special Jury Award for Feature Film at the third Hanoi International Film Festival last month. It has been screened in Italy, Belgium and Slovakia, as well as Denmark, Canada and the United States, besides the Republic of Korea, India and Chinese Taiwan.
The film tells the story of Huyen (played by Nguyen Thuy Anh), a girl who needs money for an abortion after her boyfriend deserts her. She then turns to a close friend, who is a transsexual, for help and begins to find happiness with a man (played by Tran Bao Son) who has a special passion for pregnant women.
Aurelie Godet, member of the jury board, praised the movie as a wonderful film that is emotional and womanly, especially in the way the filmmakers bring music into the film.
Diep will next take the film to Paris, where the YDA film club will host a free screening for the Vietnamese community in the city.-VNA