Prime Minister Nguyen Tan Dung announced that Vietnam will contribute US$ 1 million to the Green Climate Fund from 2016-2020 during his speech at the 21st Conference of the Parties (COP) to the United Nations Framework Convention on Climate Change (UNFCCC) that opened in Paris on November 30.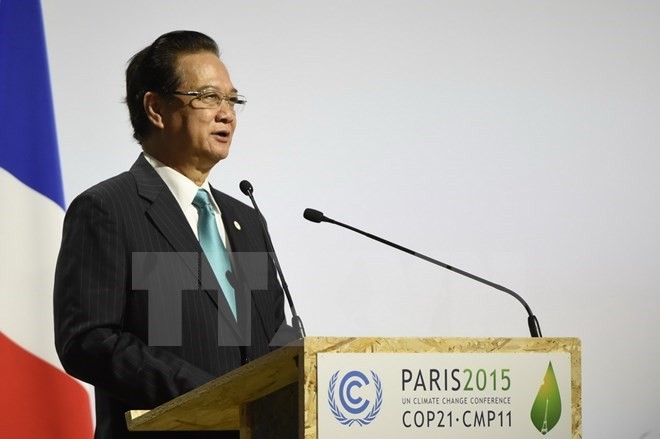 Prime Minister Nguyen Tan Dung at the event (Source: AFP/VNA)
Speaking to 150 heads of state, government and leaders of international organisations representing 196 UNFCC members, the PM reiterated the Vietnamese government's political commitment to joining global efforts to cope with climate change.
He said Vietnam pledges to support and step up the negotiations and adoption of the post-2020 global climate agreement.
Its contents should ensure equal contributions are made by all countries with balanced contents in terms of emissions reduction, adaptation, financing, technology transfer and development, he said, adding that developed countries should lead the way in delivering on their commitments while helping developing countries to realise the agreement.
Despites difficulties in pooling resources, he vowed that Vietnam will continue to actively carry out strategies, programmes and plans to tackle climate change on diverse fronts while fulfilling the obligations set in the UNFCCC and the Kyoto Protocol.
Vietnam will keep its commitment of cutting greenhouse gas emissions by 8 percent by 2030 and by up to 25 percent with international support.
The leader noted that the recently-adopted Agenda 2030 for Sustainable Development requires a strong political commitment and close cooperation to seriously, fully and effectively realise the global climate agreement beyond 2020.
On behalf of the Vietnamese government and people, he thanked and expressed his hope for further assistance from countries and international organisations for Vietnam's socio-economic development as well as the fight against climate change.
He vowed that Vietnam will responsibly deliver on its national commitments.
On the occasion, he also thanked France for hosting the event and expressed support and solidarity with French citizens over the losses caused by the recent terror attacks.