The fifth Vietnam-Cambodia Border Trade Development Cooperation Conference was held in Kompong Cham province, Cambodia, on Nov. 28.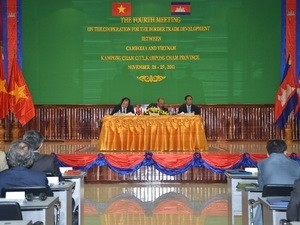 A view of the conference (Photo: Vietnam News Agency)
Co-organised by the Vietnamese Ministry of Industry and Trade (MIT) and the Cambodian Ministry of Commerce, the conference drew the participation of 250 officials and businesspeople from Vietnamese and Cambodian border provinces.
According to reports, two-way trade between Vietnam and Cambodia increased from 372 million USD in 2001 to nearly 2 billion USD in 2010. The figure is expected to surpass 2 billion USD this year and reach 3 billion USD in 2015.
Participants at the conference said that border trade activities between the two sides have seen many advantages, with expanded markets, simplified administrative procedures, improved infrastructure and effective smuggling prevention.
However, they stressed the need to build a cross-border trade legal framework between the two countries, further improve transport infrastructure and border gates; develop payment, transport, post and telecom services, as well as strengthen coordination in smuggling prevention.
The conference agreed to complete the Vietnam-Cambodia border market network development plan between 2010 and 2020, consider a project to build pilot Vietnam-Cambodia border markets for implementation in 2012, and build regulations on management of Vietnam-Cambodia markets.
Vietnam and Cambodia will boost the implementation of "one-stop" examinations at international border gates between the two countries, border trade activities and exchange of market information.
During the conference, a Vietnam-Cambodia private business forum was also organised.