Vietnam has called for dialogue and reconciliation to ensure security and human rights in Burundi in the wake of mounting violence in the African nation.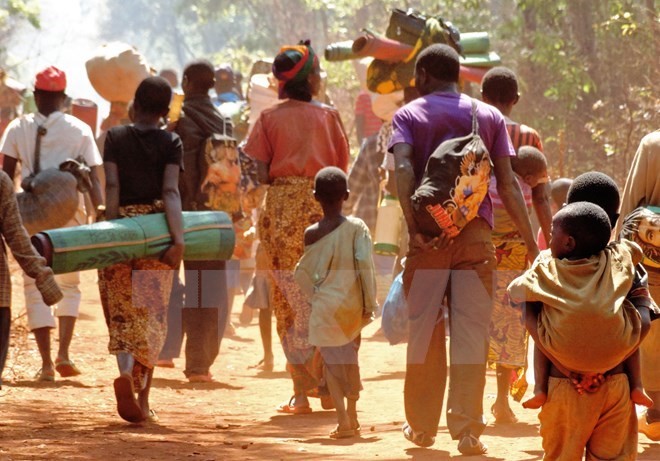 Burundian people at a refuge camp in Kigoma, Tanzania (Photo: AFP/VNA)
A representative of the Vietnamese permanent mission in Geneva, Switzerland, made the appeal at a special session of the UN Human Rights Council (UNHRC) on December 17 which was held at the request of some 40 HRC member and observer countries. It drew the participation of representatives from more than 160 member and observer countries and relevant international organisations.
The Vietnamese representative stressed that as a member of the UNHRC, the country closely monitors and shares the international community's deep concerns over the escalating violence in the central African country.
It condemns violence and human rights violations against civilians, particularly vulnerable groups like women and children.
Vietnam supports necessary assistance by the international community, especially the UN and the African Union (AU), with the agreement of authorities and relevant parties in Burundi, to expeditiously end violence and hold dialogue to seek peaceful solutions, the representative added.
In their reports, the UN High Commissioner for Human Rights and other senior UN and AU officials said the surge of violence in Burundi is pushing the country to the brink of a civil war, posing a risk of relapse into genocide.
They emphasised that attacks by both government and opposition forces have claimed hundreds of lives, many others have been kidnapped and tortured, while more than 200,000 people were forced to seek refuge. Limited access to health care and food has affected people, especially women and children.
The High Commissioner and officials called for urgent actions by the UNHRC and countries around the world to prevent the aggravation of the human rights situation in Burundi.
At the session, more than 70 UNHRC member and observer countries voiced serious concerns over the growing violence in Burundi and demanded the government and opposition sides in the African nation immediately halt violence against civilians and swiftly hold substantive dialogues to seek political solutions to the domestic conflict. They also asked the UN to enhance the implementation and expansion of efforts relating to Burundi within the framework of the UN Security Council and the UNHRC.
Following the discussion, the UNHRC ratified a resolution condemning violence and human rights violations in Burundi. The document also tasked the UN High Commissioner with promoting efforts to learn about the reality, offer technical support and cooperate with the country's authorities and relevant sides to prevent a risk of more severe human rights violations.