The four-day visit is made after the agreement between the two countries' high-ranking leaders in the joint statement issued by Vietnam and the US during US President Donald Trump's visit to Vietnam in November 2017, said Foreign Ministry Spokesperson Le Thi Thu Hang at the Foreign Ministry's press conference in Hanoi on March 1.

The visit aims to strengthen the relationship and co-operation between the US and Vietnam's military as well as contribute to the regional peace and stability, security, development, she added.
A number of activities, including a welcome ceremony, a press conference, courtesy visits, technical exchanges, sports matches, and other community activities will be held during the visit.
USS Carl Vinson is the United States Navy's third Nimitz-class supercarrier. The construction of the ship was ordered in April, 1974 and launched in March, 1980. After builder sea trials, the vessel was delivered to the Navy in March, 1982.
The nuclear-powered aircraft carrier has a displacement of 101,300 long tons and the length of 333 meters. The ship is powered by two Westinghouse A4W nuclear reactors driving four steam turbines. Cruising speed is 30 knots (about 56km per hour). It has an unlimited cruising range during the 20 to 25 year life of the fuel.
USS Carl Vinson is currently docked at the homeport of Naval Air Station North Island in San Diego, California.
The event attracts a lot of domestic and foreign news agencies attention, including journalists from Reuters.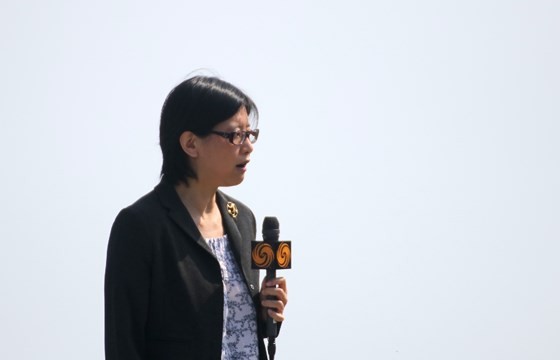 Reporter of Phoenix Hong Kong Channel