Veteran artist Huynh Phuong Dong, passed away at the age of 90 in Ho Chi Minh City on December 18.
Painter Huynh Phuong Dong, whose real name was Huynh Cong Nhan, was born in 1925 in in Binh Hoa-Gia Dinh (present-day Ho Chi Minh City). He studied at the Gia Dinh Fine Arts TrainingSchool (former Ho Chi Minh City University of Fine Arts) in 1940.
After graduating from the Gia Dinh Fine Arts TrainingSchool in 1945, he joined the army (1945-1954).
He left for the north in 1954 and joined Ha Noi's Fine Arts College. After that graduated from the sculpture department in 1963, he returned the south to join in the anti-American resistance war.
He was member of the standing committee of the Vietnam Fine Arts Association (1975-1977), deputy head of the Department of Fine Arts under the Ministry of Culture and Information (1977-1988), and has become a teacher at Ho Chi Minh City University of Architecture, and College of Culture and Arts of Ho Chi Minh City.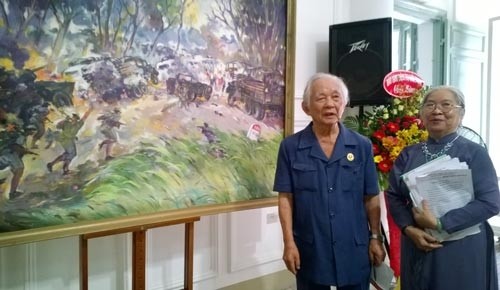 Painter Huynh Phuong Dong and his wife, doctor Le Thi Thu in his own art exhibition at the Ho Chi Minh City Museum of Fine Arts in 2014.
The artist has a huge treasure of more than 10,000 art works displaying oil paintings, sketches, posters, and statues he created in the last several decades . With sketching techniques, Huynh Phuong Dong reflected the moments of life and wars in an honest manner.
Most of his works feature forests, the faces of soldiers and guerrillas, battles, and the hardships of a soldier's life during the wars in Viet Nam between 1945 and 1975.
Mr. Dong's paintings proclaim him an artist who devoted his whole life to capturing these historic events in order to preserve them for all time, according to Johanna Branson, an American researcher and PhD in fine art history.
He was awarded the State Prize for his paintings, "Ap Bac Battle", "Binh Gia Battle" and "La Nga Battle" in 2007.
Many of his paintings have been exhibited both at home and abroad, including Eastern European countries, Cuba and China and are highly appreciated in artistic circles.
A book entitled "Vision of War and Peace" featuring paintings of the wartime and peacetime by painter Huynh Phuong Dong was released in the U.S and Viet Nam in 2007.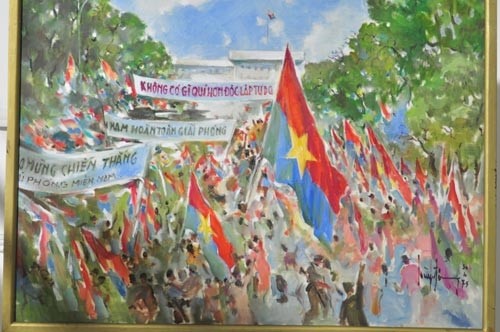 The painting titled Ngay vui lich su (The happy day of history)