Several unlicensed parking lots have sprung up across various districts of Hanoi, defacing the city landscape, causing great inconvenience to pedestrians, fleecing customers while successfully dodging taxes.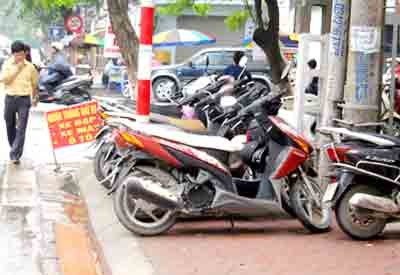 A parking lot occupies an entire pavement, pushing vendors onto the main road (Photo: Sai Gon Giai Phong)

The Hanoi Party Committee decided to take action and clean up the mess. They had ordered two inspections teams in May this year to restore public order and monitor parking lots in 10 districts of the city.
The team inspectors announced at a meeting on Friday that they had issued fines on 232 businesses conducting such illegal activities and collected more than VND4.8 billion (US$229,000) in penalties from them.
According to Colonel Tran Thuy, deputy chief of Hanoi Police, most of the parking lots are unlicensed; moreover, they don't quote their rates openly and fleece customers of high amounts of money, while also evading taxes.
Worse still is the fact that ward authorities themselves run the operations. Authorities in Tran Hung Dao and Trang Tien Wards in District Hoan Kiem, Lieu Giai Ward in District Ba Dinh and Phuc La Ward in District Ha Dong consider the money collected from parking lots as an additional income.
According to a police representative, these illegal businesses are willing to pay a fine of VND25 million (US$1,190), as their income far exceeds such a setback.