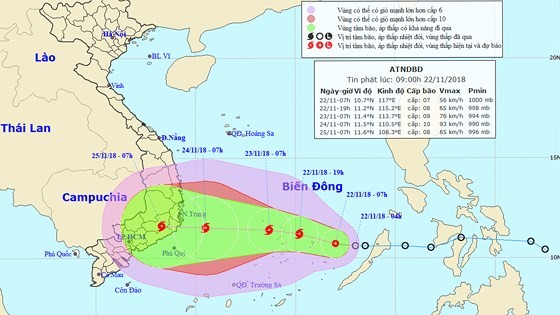 At 7am this morning, tropical low-pressure system centered at 10.7 degrees north latitude, 117.0 degree east longitude, 300km from Song Tu Tay Islands (belonging to Truong Sa Islands) in the east east-south.
The strongest wind speed near the center was level 7 at 50 to 60km per hour. In the next 12 hours, tropical low-pressure can develop into a storm, said the center.
In the next 12 to 24 hours, the typhoon will move west west north at 15km per hour and then gain strength.
On November 23, it will center at 11.4 degrees north latitude, 113.7 degrees east longitude, 100 km from Song Tu Tay Island. The strongest wind will peak at 60 to 90km per hours.
Due to an impact of tropical low-pressure which is forecast to develop into a storm, the south part of the East Sea will see heavy rains, strong wind of level six and seven, sea rough.
In another development, international weather stations said due to the impacts of the typhoon, the rainfall will reach at 200 to 300mm in the coastal provinces of the south central and east southern region.