Responsible drinking was at the centre of a conference held in Hanoi on March 27 by the Vietnam's National Traffic Safety Committee (VNTSC) and t he International Centre for Alcohol Polices ( ICAP ).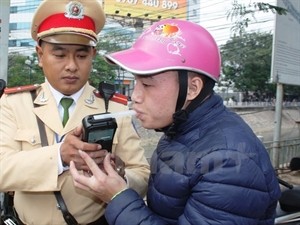 A man was undertaking blood alcohol testing. (Photo: VNA)
The conference reviewed the implementation of the "Global Action to Prevent Alcohol Abuse" programme in Vietnam from 2010 to 2014, which is part of the "Global Action on Harmful Drinking" campaign.
It gave participants the chance to learn about the successes and challenges from running, managing and operating projects from central to local levels; the final results and impacts of the project; and the upcoming action plans within the "Global Action" programme in Vietnam.
The programme carried out activities in three initiatives: alcohol, beer and driving; regulations on responsibility in promoting and marketing alcohol products; and non-commercial alcohol and beer in 18 low and middle income countries.
Addressing the conference, Vice Chairman of Vietnam's National Traffic Safety Committee Khuat Viet Hung said the practice and experience from the project carried out in Hai Chau and Lien Chieu districts of Da Nang city had been applied to the entire city and to Thanh Hoa and Nghe An from 2013-2014.
Hung appreciated the programme's effectiveness, sustainability and societal involvement in the implementation process.
The Committee is willing to expand cooperation with the ICAP and now the International Alliance for Responsible Drinking (IARD) to carry out programmes on responsible drinking, contributing to preventing drinking and driving in Vietnam, Hung said.
Brett Bivans, Senior Vice President of ICAP/IARD, took the occasion to thank Vietnamese ministries and governmental agencies for their effective cooperation during the programme.
Programme projects were carried out effectively, laying a strong foundation for the next steps towards promoting 'responsible drinking' in Vietnam, Bivans said.
The IARD will continue working with partners to reduce drinking and driving in Vietnam, he added.