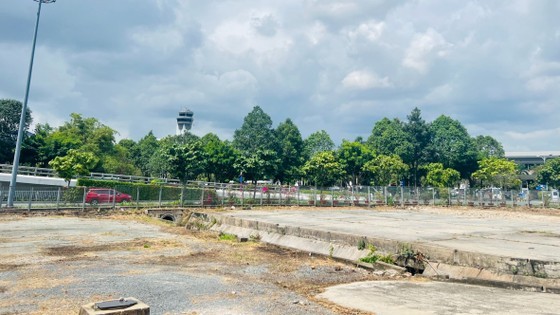 The taxi parking lot in front of Tan Son Nhat International Airport

Tan Son Nhat International Airport is estimated to accommodate around 950-1,000 flights with 130,000 passengers per day at peak time during the upcoming Tet Holiday. Therefore, it needs to open a temporary taxi stand.
In the first stage, a taxi way will be formed heading towards Bach Dang Street; temporary toilets and daily sewage treatment units will be installed; a temporary lighting system and water supply system will also be set up. In the second stage, taxi ways in and out of the international station will be opened.
The Airport Security Center of Tan Son Nhat International Airport is in charge of the taxi buffer yard and cooperates with the police units here as well as the police force of Ward 2 and Tan Binh District, the Traffic Police of Tan Binh District in order to maintain security and order in this area and its neighborhood.
Tan Son Nhat International Airport will allow all taxi companies registered to operate here to use the buffer lot to better answer the needs of their customers. The number of taxis of each company is divided according to the registered ratio and in accordance with its own allocation and capacity.
In related news, Saigon Railway JSC informed that until now, there are 2,000 train seats left from Ho Chi Minh City to Hanoi. Among them, the seats to Quang Ngai Province on January 13, 20, and 21 are available, but mostly extra seats.
Saigon Transportation Mechanical Corporation – Single-Member Limited Liability (Samco) announced that 10 days before Tet Holiday, this organization directed all of its coach stations and affiliated passenger transport units to work with the city's transportation to serve the travel needs of the public.
During this Lunar New Year, many of its units will work 24 hours a day to answer the high demands of passengers. For further information and reports on law violations, people can call the hotlines (028) 35.116.858; 0368.292292; 1900.7373; (028) 37.180257; (028) 37.161333