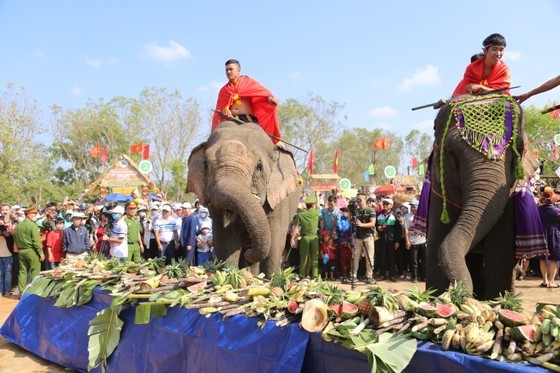 The domesticated elephants are enjoying fruits, vegetables banquet.
Chairman of the People's Committee of Buon Don District Pham Van Nghia said that the elephant has become a unique cultural symbol of the Central Highlands so far, representing the beauty of villages, the richness and prosperity; and the animal has been associated with the foundation and development of the nation, integrated into social relationships, affected the culture, beliefs, customs, festivals and many community activities of the Central Highlands ethnic groups.

The Buon Don Elephant Festival 2023 is a practical activity to introduce the potential of cultural development and eco-tourism of Dak Lak province; to honor the cultural values of ethnic groups in the Central Highlands with open space creating attractiveness to investors joining the cooperation, investment activities to develop the economy and society in general and tourism sector in the district in particular.
Seven domesticated elephants from tourism units and people joined the elephant festival this year with new interesting activities, comprising elephant make-up, fruit banquet for elephants and elephant's salutation and so on to replace activities such as elephant race and elephant football.
Notably, the organizing board prepared tons of favorite fruits and vegetables such as watermelon, sugar cane and banana for the seven elephants. The new activity has attracted tourists when they can feed the animal by hand and take photos with giant elephants.


In Vietnam, Asian elephant populations are critically endangered with only about 60 domesticated species and more than 100 individuals remaining in the wild, scattered in the provinces of Dak Lak, Dong Nai and Nghe An.

The Asian elephant is classified as Critically Endangered (CR) in the Vietnam Red Book (2007) and in Appendix I, List of endangered precious and rare species prioritized for protection under Decree 64/2019/ND-CP of the Government.