Car drivers can now fuel their vehicles themselves, as part of a pilot project that began at two filling stations in Hanoi on December 1.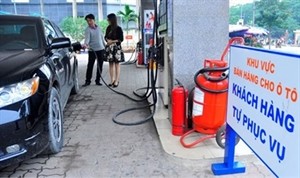 Customers fuel their car at a petrol station on Hanoi's Xuan Thuy Street, part of a pilot project at two stations in the city (Photo: laodong.com.vn)
The two filling stations are located at 1 Tran Quang Khai street, Hoan Kiem district and 71 Xuan Thuy street, Cau Giay district.
Tran Ngoc Nam, Deputy General Director of the Vietnam National Petroleum Group (Petrolimex), was quoted by infonet.vn as saying that the new service was proposed and implemented by its affiliate Petrolimex Company Zone 1.
"Under self-service fuelling, customers will handle the dispenser and manage the fuel injection themselves," Nam said, adding that the service was new in the country but popular in many countries, including the United States.
"The new self-service is aimed at improving the transparency of petrol trading," he said.
Nam said that the service does not apply to motorbike drivers due to the high number of motorbikes in the capital city. "We will learn lessons from the pilot project to have a clear plan for self-service fuelling by motorbike drivers," he added.
La Minh Chung, head of the filling station at No 1 Tran Quang Khai street, Hoan Kiem district of Hanoi, said that the station is offering both the new and the old services. He said that the station's sale persons will carefully instruct customers about safe handling of the petrol dispensers and how to pay for fuel.
Meanwhile, there were different reactions from the public to the project.
Driver Pham Van Thanh, 53, said that self-service was very convenient for him. "I have lived for more than 10 years in European countries and I see that self-service fuelling is quicker than the traditional fuelling service. I think that it will take some time for Vietnamese drivers to familiarise themselves with this service," Thanh added.
Meanwhile, taxi driver Le Manh Tien, 28, was not happy with the new service as, he said, it took him more time to fill the car. He was forced to go back and forth from the car to the payment cabin three times.
"This service is not as quick and simple as many car drivers expected. I like the traditional fuelling method much more," said Tien.