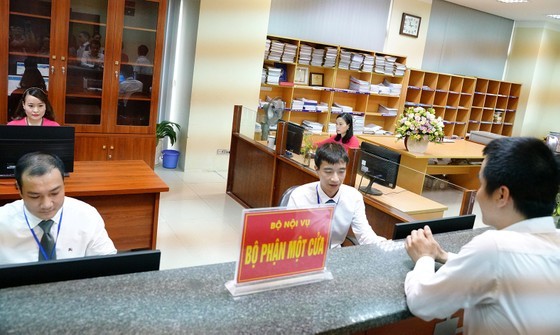 Public servants earning a high salary feel motivated to do a good job
The human factor is crucial in the implementation of a strategic plan for building Vietnam to become a prosperous country by 2045 as per the Resolution of the 13th National Party Congress. Investments in human capital can yield returns; thus, the salary policy reform must be urgently solved.
Not only the education and health sectors but also employees in other professions complain a lot about wage policy.
Mr. Bui Cong Khanh who has been working in the internal affairs sector in Hanoi for nearly 20 years, said that his current total income including his bonus is less than VND9 million. His home is more than 20km away from the office, and for more than 10 years, in order to save money, he often goes to the office by bus and brings rice from home for lunch. Although he wants to work overtime to have more income to take care of his family, he hardly finishes his task before 5 PM.
Following the news of an increase in basic salary from July 1, Mr. Khanh said that his wage is not growing at a fast enough rate to keep up with inflation in a large city such as Hanoi.
Speaking at the last National Assembly session, Mr. Truong Trong Nghia from Ho Chi Minh City said that the reform of wages and incomes of officials, workers and public employees should be enough for employees to reproduce their labor and support the family, Mr. Truong Trong Nghia said.
Before retiring, former Minister of Home Affairs Le Vinh Tan also affirmed that it is necessary to resolutely implement the new salary regimes because officials and public servants earning a high salary feel motivated to do a good job. On the other hand, according to experts, it is necessary to have an appropriate salary policy to attract and retain talented people and capable people in the public sector.
The Department of Home Affairs of Ho Chi Minh City's announcement about the results of the implementation of the policy to attract excellent students and young scientists according to Decree No. 140/2017/ND-CP on the policy of attracting and creating human resources that from 2018 to now, Ho Chi Minh City has not attracted any excellent graduates and young scientists in public sectors. The main reason that no excellent students and young scientists agreed to work in public sectors in the past 5 years is due to low income and remuneration policies in the public sector and direct competition with the private sector.
The Ministry of Home Affairs also acknowledged that a large number of civil servants and public employees quitting their jobs is an existing problem in the mechanism and policy of management of human resources that the Ministry of Home Affairs needs to have immediate and long-term solutions.
From July 1, the basic salary for civil servants and public employees will increase to VND 1.8 million. This increase also only contributes to improving the lives of wage earners, but cannot meet the needs of life and it is not enough to eliminate the gap between public sector salaries and non-market wages.
According to Mr. Luu Binh Nhuong, Deputy Head of the Civil Volunteers Committee of the National Assembly Standing Committee, it has been so far difficult for us to carry out the reform of salary policy, because wages always depend on the budget.
Recently, the National Assembly passed Resolution 54 on a specific mechanism for Ho Chi Minh City, allowing Ho Chi Minh City to pay higher wages, but that was only a slightly higher salary increase, not enough to attract talented people. The current salary is both not true to the nature of the salary, and does not guarantee fairness in terms of grades and contributions to the right capacity and can disrupt the wage system," Mr. Nhuong said.
He said that the salary cannot be equalized, and wage policymakers should consider job positions.
Working in the internal affair sector and quite knowledgeable about salary issues, Mr. Bui Cong Khanh said that it is necessary to create a source of salary payment by collecting taxes fully and avoiding loss of revenue. This will be a huge source of money to be able to calculate the salary balance in the future.
On the other hand, those who do not meet the job requirements should be laid off. The rate of laid-off personnel in any agency usually accounts for about 30 percent, Mr. Khanh stated.