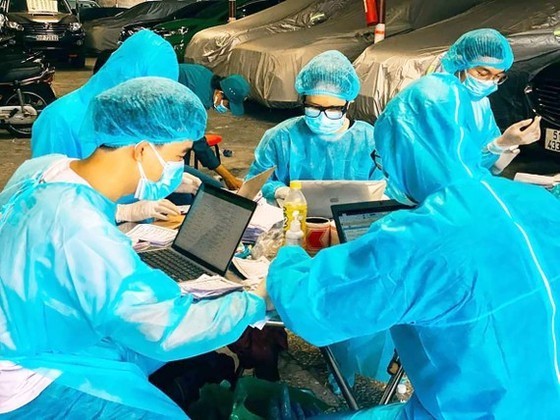 Medical workers work during the Covid-19 pandemic
Medical workers who have changed their jobs said that their decision was related to unsustainable levels of stress and burnout while the income is not commensurate with their efforts.
Doctor Huyen Nga working at the Obstetrics and Children's Hospital in the Central Province of Nghe An said that after graduating from Thai Binh Medical University, she returned to her hometown to work. She worked at the hospital from 2015 to the beginning of 2023 but she enjoys a salary of VND6.2 million a month. This salary is not equal to the monthly salary of a maid, said Dr. Nga.
According to Dr. Huyen Nga, because of heavy work pressure plus having a baby, she was forced to work a part-time job to earn more money because, with a salary of VND7 million a month, she can't hire a maid to take care of her baby while she was at work.
Medicine students study very hard and spend a lot on tuition fees. But when they are recruited into public medical facilities, they receive a monthly salary of VND3.486 million and a 40 percent vocational incentive allowance. After deducting social insurance, health insurance and other fees, a doctor's salary is less than VND4 million a month; worse, a nurse without a university degree receives less than VND3 million a month.
"The medical profession is recognized by society as a noble profession, but no matter how noble, it also requires money to live. Medical workers have to take care of their children and parents so they had no choice but to work part-time to earn more income," said Dr. Huyen Nga.
Doctor Hoang Thanh of the Hanoi-based Central Tuberculosis Hospital said that medical staff cannot afford to live on their pay and even extra income so all doctors have to work part-time in private clinics. Sometimes, they have to resist the temptation of the invitation of private hospitals which offer attractive salaries and high autonomy for doctors, said Dr. Hoang Thanh.
Currently, most public hospitals are overcrowded. In many hospitals, doctors and nurses must work from 6 am. Every day, each doctor can examine dozen of patients, even hundreds of patients, so they are drained. During the Covid-19 epidemic, the medical force in grassroots facilities was even more terrible; they were almost exhausted but they receive a salary of only about VND5 million a month.
Professor Dao Xuan Co, Director of Bach Mai Hospital, also said that every day, the institution receives 8,000-10,000 outpatients while the number of inpatients is about 4,000 people a day. As an autonomous hospital with financial difficulties, many doctors and nurse of Bach Mai Hospital have changed their jobs during the past three years.
Presently, the medical staff of Bach Mai will be ready to quit their job when a private hospital is operated. The hospital managers are fretting because since July 1, the hospital has not had enough money to pay as per the new salary levels.
Doctor Tran Khanh Thu, General Hospital of the Northern Province of Thai Binh, said that the health sector has set a target of striving in 2023 to reach 12 doctors for 10,000 population, while in 2022 it is estimated to reach 10 doctors/10,000 people. Without a radical solution to immediately limit employee leave, the health sector will be in trouble.
The report of the Vietnam Health Union clearly shows that health workers quit their jobs or change jobs due to low salaries and allowances for public health workers, while the salary level is low whereas non-public health facilities offer salaries which are 3-4 times higher, even 5-6 times higher the levels in public institutions. Private medical facilities are willing to offer high income to attract medical staff, while public health facilities have no mechanism to retain staff.
Dr. Bui Sy Loi, former Vice Chairman of the National Assembly's Social Committee, said that doctors are responsible for taking care of the people's health, but our salary reform has not been done properly. A person spends nearly a dozen years to become a doctor; so, it is unreasonable when their salaries are not different from that of civil servants and public employees in the administrative division - professions who receive short time training.