More than 94,750 businesses were founded in 2015, representing a rise of nearly 30 percent compared to the previous year, statistics have revealed.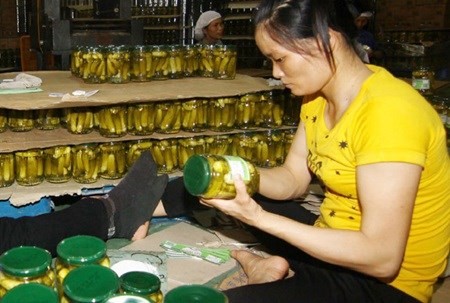 Workers of the GOC Food Processing Export Company check products before packaging. (Source: VNA)
The Business Registration Management Agency under the Ministry of Planning and Investment said this made 2015 a record year in terms of the number of new firms. Driven by regulatory reforms with the Law on Enterprise taking effect since the beginning of July, it allowed time for registration of businesses to be cut to less than three days.
In December alone, more than 7,900 firms were established, rising by nearly 20 percent over the previous months.
Tran Thi Hong Minh, the Business Registration Management Agency's director, said that roughly 47,000 new businesses were founded from the date the new enterprise law come into effect to mid-December.
A majority of new firms were registered in commerce and production, the two major sectors of the economy.
Dang Huy Dong, deputy minister of planning and investment, was quoted by vtv.vn as saying that it was a good trend that the business community was significantly shifting its investments into important sectors such as education, healthcare, production and processing.
The ministry previously estimated that the total registered capital of new firms would reach VND538.7 trillion (US$23.9 billion), creating 1.3 million jobs. In addition, existing businesses were registered to raise capitals by a total of VND742.2 trillion (US$32.98 billion) during the year.
The rise in the number of new firms reflected improved business confidence. However, businesses continued to struggle with more than 71,000 of them being dissolved, forced into bankruptcy or temporarily halting operations in the first 11 months of 2015, the General Statistics Office revealed.
Cao Viet Sinh, member of the National Financial and Monetary Policy Advisory Council, said that it is important to improve the business climate and remove the stumbling blocks facing firms.
The report titled "Doing Business" from the World Bank published in October revealed that the ranking of Vietnam's business environment improved three places to 90 out of 189 countries, in which starting a business jumped six places from 125th to 119th.