A recent survey by CBRE Vietnam showed that ready apartments in the domestic market in the third quarter of the year decreased on the same period last year.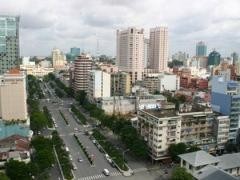 A view of Ho Chi Minh City
During the third quarter of 2011, about 2,444 apartments nationwide were ready for selling or renting, a four time increase as compared to the second quarter of 2011, but a decline of 59.4 percent over the same period last year.
Compared with the second quarter, apartments for sale did not increase in number in the third quarter, but numbers of offices for lease dropped slightly. For example, an office in the A class category dropped by 0.2 percent, B class by 1.9 percent and C class by 2 percent.
In addition, the total office floor area for lease, around 40,000 square metres, increased by 6.1 percent compared to the second quarter, with the average vacancy rate of 17 percent.