With Christmas Day and the Tet Holiday just around the corner, a myriad of promotional programmes have been launched by supermarket chains to serve consumer demand.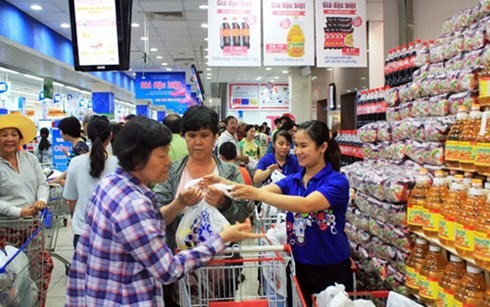 Customers shop at Co.opmart (Photo: Co.opmart)
In addition to the operation of 24 brand new supermarkets nationwide, Vinmart is offering its customers a special discount of up to 49 percent for all essential products until December 24. Around 300 Christmas gifts will also be presented to children accompanied by their parents who spend more than 300,000 VND (13.5 USD).
From December 14-27, Co.opmart and Co.opXtra customers have the chance to enjoy special offers, including 50 percent discounts for thousands of essential commodities, one-price programmes and a sparkling Christmas programme. In addition, customers who spend more than 400,000 VND (18.06 USD) will receive substantial discounts for some commodities.
Meanwhile, shoppers at Lotte Mart are entitled to a discount of 49 percent from December 12-21. However, prices for lucky-money envelopes and Tet decorations are forecast to surge by 5-10 percent.
According to Ho Chi Minh City's Department of Industry and Trade, prices for Tet commodities will be stabilized and supplies will rise by 15-20 percent from last year.
Commercial banks in the city have issued 1.6 trillion VND (72.2 million USD) in loans for 18 businesses to stock products for the Tet holiday, the Department said.
The Hanoi People's Committee has also advanced over 236 billion VND (10.6 million USD) to 10 enterprises to prepare essential commodities for Tet, including rice, pork, chicken, eggs, frozen seafood, vegetables and confectionary.-VNA