Prime Minister Nguyen Tan Dung is leading a Vietnamese delegation to the 5th Greater Mekong Subregion (GMS) Summit held in Bangkok, Thailand, on December 19-20 at the invitation of his Thai counterpart Prayuth Chan-ocha.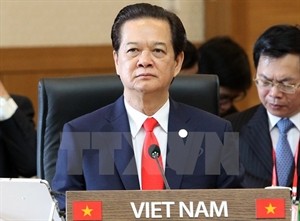 Prime Minister Nguyen Tan Dung (Source: VNA)
Vietnam's attendance at the event is to show the country's support for the GMS mechanism and affirm the role and position played by the country in promoting sub-regional and regional links as well as the relations between Vietnam and other nations in the sub-region.
Vietnam will take the occasion to consolidate the Strategic Partnership with Thailand, while calling for support from the international community for joint efforts in the sustainable management and use of the Mekong River water.
Established in 1992 under the initiative of the Asian Development Bank (ADB), the GMS cooperation programme consists of Vietnam, Laos, Cambodia, Thailand, Myanmar and China's Yunnan and Guangxi provinces.
The programme's long-term goal is creating favourable conditions for promoting mutual-benefit economic cooperation among regional countries, towards turning the GMS into a rapid and prosperous growth region in Southeast Asia.
By June 2014, the GMS carried out 75 investment projects totaling US$ 16 billion, including those relating to the development of transport systems, hydropower, tourism infrastructure, contributing to socio-economic development and poverty reduction in the sub-region.
Vietnam has joined actively in almost GMS's initiatives in the fields of transport, energy, investment, communications and agriculture, becoming a key link in GMS transport routes and economic corridors.