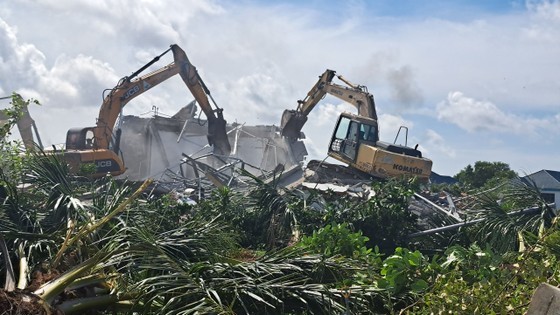 Phu Quoc City continues to coercively demolish the illegally-built villas.
Local authorities and functional agencies have identified the owners of the illegal construction works, all of them are living in Duong Bao Hamlet, Duong To Commune.
The People's Committee of Phu Quoc City confirmed that the promulgation of administrative violation handling decisions for the above-mentioned individuals was in accordance with related procedures and legal regulations.
After over a year of detecting and verification, 30 out of 79 illegal-built villas in Duong Bao Hamlet, Duong To Commune, Phu Quoc City in Kien Giang Province have been handled. Of these, 26 villas were demolished and the rest were voluntarily dismantled by the owners.
Chairman of the People's Committee of Phu Quoc City Huynh Quang Hung said that the local authorities are reviewing documents of each construction work to strictly handle the remaining violation cases.
Besides, he recommended that investors should study more about legal regulations and planning before investing in real estate projects in Phu Quoc City to avoid being cheated.