The French airport authority Aéroports de Paris (ADP) on March 23 expressed a desire to become a strategic shareholder and buy 25-30 percent stake of Airports Corporation of Vietnam (AVC).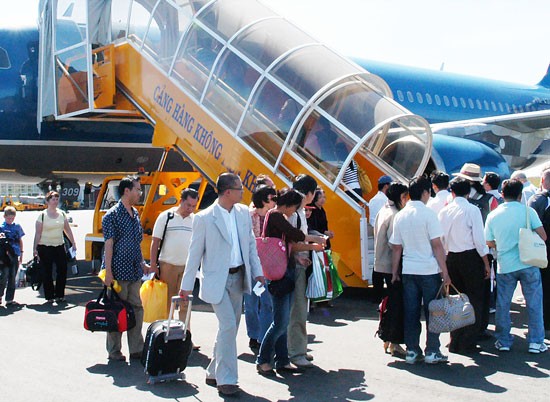 Passengers board a plane of the national flag carrier Vietnam Airlines (Photo: SGGP)
At a meeting with the Ministry of Transport, ADP chairman cum director general Augustin de Romanet said that the company has been willing to negotiate with ACV, expressing that ADP hoped to become ACV's long-term partner in both capital and human resource development.
Playing the role of a strategic shareholder, ADP can buy up to 25-30 percent of ACV stake before the corporation launches its Initial Public Offering (IPO) in Vietnam.
In addition, ADP and the Switzerland-based multinational financial services group Credit Suisse will work with the Transport Ministry and ACV to mobilize US$2.5-3 billion for Long Thanh International Airport project.

Minister of Transport Dinh La Thang appreciated ADP's interest in ACV.
According to Mr. Thang, the ministry is instructing the corporation to complete equitization procedures in the second quarter this year. ACV is expected to submit a project to the Government by April this year.
The Government plans to send Long Thanh Airport project to the National Assembly (NA) by May. If the NA approves the airport building policy, the ministry will conduct following steps to implement it, he added.
Minister Thang said that the ministry completely supported cooperation with ADP. The company should continue working with ACV and authorized agencies under the ministry on route and procedures to become a strategic partner and attend in the preparation and implementation of Long Thanh project legally, effectively and in the right order, he noted.