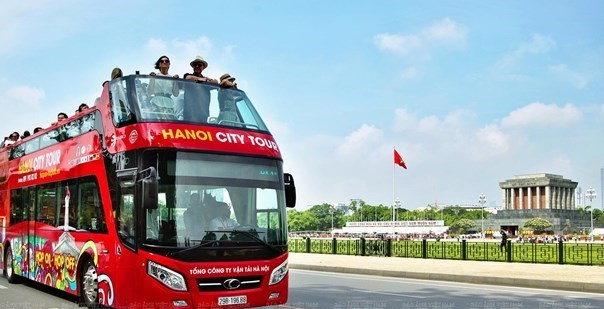 Visitors to Hanoi on a bus tour (Photo: VNA)
The VNDirect Securities JSC held that the aviation and tourism industries will record breakthrough growth from 2023 thanks to the strong recovery of international markets.
The number of foreign arrivals in Vietnam is predicted to completely return to pre-pandemic levels by next year 2024 and be equivalent to 118.9 percent of the 2019 figure, before the Covid-19 broke out, a year later, the Lao dong (Labour) daily reported.
The UN World Tourism Organisation (UNWTO) recently also forecast the international tourist number may reach 80 - 95 percent of pre-pandemic levels in 2023.
The Vietfoot Travel company said the country's tourism sector, including travel and event planning firms, will have opportunities to bounce back and soon regain its 2019 growth trend.
Vietnam welcomed 871,200 international arrivals in January. It targets 8 million foreigners for this year.
Despite a surge in the tourist number since the year's beginning, the sector is still facing difficulties and challenges. Lao dong quoted General Director of the Vietnam National Administration of Tourism Nguyen Trung Khanh as saying that due to the impacts of the global economic recession and domestic socio-economic changes, travelers' purchasing power has decreased and they tend to curb spending on middle- and high-end services.
To achieve the set targets, many experts recommended the sector develop new products and services, diversify and improve the quality of services, and increase experiences to meet tourists' demand.
They added travel businesses should also increase communications and promotion activities, stay updated with market trends, and ensure security and safety of destinations. It is also necessary to enhance tourism connectivity among localities to attract more domestic and international visitors.