Many overlapping cultural layers with relics of architecture, sewerage systems have been found in the Imperial Citadel of Thang Long in 2015, according to an announcement in Hanoi on December 14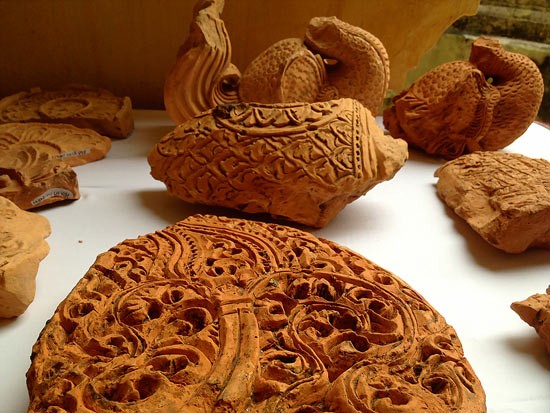 Objects are found in the Imperial Citadel of Thang Long in 2015.
Architectural vestiges and cultural layers dating back to the Ly, Tran, Le and Nguyen dynasties covers on an area of 1,000 square meters.

Accordingly, newly-discovered pillars bases prove the presence of large-scale architectures outside the drainage system.

The earlier existing 83m long structure was unearthed in 2012.The water construction and the foundation of a wall running in parallel with the work, both dating back to the Ly dynasty were discovered in the Kinh Thien Palace – Doan Mon (The Southern Gate) site.

The People's Committee of Hanoi has asked the Thang Long Ancient Citadel Preservation Center to continue to plan a detailed excavation work in every period, aiming to clarify historical and cultural values of the heritage.

The Thang Long Imperial Citadel was first discovered in late 2002 during excavation work to build a new national assembly on Hoang Dieu Street.
Thang Long Citadel was part of a citadel system built in the 11th century that included the Dai La Citadel, which acted as a defensive rampart with a complete dyke system, and the Forbidden City, where the king and his royal family lived.
It was recognized as a world cultural heritage by UNESCO in 2010.