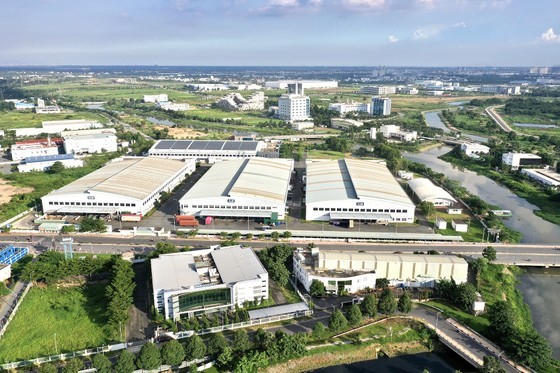 Thu Duc City owns a high potential for further growth as long as suitable policies and mechanisms can be applied (Photo: SGGP)
Secretary of Thu Duc City Party's Committee Nguyen Huu Hiep shared that the city has soon formed a local government apparatus, and the administrative management is consistent with that of the whole country. The Central Government as well as HCMC itself also give it certain power and greenlight some mechanisms based on Thu Duc City's strengths and characteristics.
However, after two years of establishment, this city is still in need of more suitable policies, mechanisms to bloom to its fullest potential and more actively decide on issues related to its local growth.
The most problematic now lies in Thu Duc City's government apparatus, which is theoretically at provincial level but actually operates under the district-level model. This greatly harms the city's development since a division here has to perform the duty of multiple departments. For instance, its Urban Management Division plays the role of three city-scale departments of Construction, Planning and Architecture, Transport, which is rather overloaded for its 56 civil servants.
Besides, it is necessary to restructure certain organizations such as the Land Compensation and Clearance Committee, the Brand Office for Land Registration, and the Inspection Team for Construction Order to fine-tune operation. With the current mechanism, cooperation among state units in Thu Duc City is not smooth enough to maintain the progress of assigned tasks.
These inadequacies lead to a high demand to establish specialized offices in accordance with the specific developments of Thu Duc City; yet this has not been stipulated in any applicable laws.
In its report to the Government about piloting certain special policies and mechanisms for the growth of HCMC, the Planning and Investment Ministry proposed decentralization and authority provision to Thu Duc City while completing the local government apparatus here in order to boost innovation and dynamism of the city.
HCMC People's Committee agreed that with proper mechanism and policies, Thu Duc City has a chance for making economic breakthroughs, reducing time in administrative procedures, and actively addressing problems within its power.
Hence, HCMC People's Committee suggested that the Central Government allow HCMC People's Committee and Council to give certain authority to Thu Duc City People's Committee and Council in the fields of investment management, budget allocation, economic management, urban management, natural resources management, and cultural-social management, along with the application of an administrative management apparatus of the urban government.
The budget revenue of Thu Duc City in 2022 was VND20 trillion (US$852 million). It is estimated that with more power delivered, the city will be able to attract more capital and resources nationally and internationally, resulting in even higher revenues this year.
In addition, HCMC People's Committee proposed that HCMC People's Council be allowed to decide the apparatus organization, quantity and functions of each division in Thu Duc City. HCMC also asked for the power to establish and regulate the functions, missions, organization of the Construction Inspection Team, the Land Resources Development Center, and the Land Registration Office in Thu Duc City.
Thu Duc City People's Council is proposed to have power to form its Urban Board under its management. Also, this Council is in need of one more vice chairman and no more than eight full-time delegates. Thu Duc City People's Committee has asked for one more vice chairman (but no more than four in total).
Chairman of Thu Duc City People's Committee Hoang Tung sai that the new draft resolution to replace Resolution No.54 proposes decentralization and more authority for Thu Duc City, which is extremely important to boost the speed of processing administrative procedures, especially in the fields of land use and construction.
Resolution No.31-NQ/TW by the Politburo stipulates the power of HCMC People's Council in structuring and identifying the functions of specialized state divisions, which means it is logical for the Council to perform the task for divisions in Thu Duc City for the sake of smoother operation, particularly when HCMC is adopting the urban government model.
Moreover, many other proposals by HCMC when approved can be applied to Thu Duc City to better attract private investments and partners in the public-private partnership for the cultural-social, sports, urban traffic aspects. That will help Thu Duc City to upgrade its urban traffic infrastructure like Metro Route 1, Ring Road 3.
Dr. Nguyen Thi Thu Hoa from the Faculty of Politics – Administration of Vietnam National University-HCM said that it is necessary to introduce policies and mechanisms to address existing issues in Thu Duc City for more development, as there has not been much change for the past two years after the formal introduction of Thu Duc City.
Thu Duc City will be autonomous and self-governing if it receives more authority and decentralization in certain fields. Only by that can the city enhance its own creativity, activeness, and efficiency in management tasks at all levels. Alternatively, the Central Government should boldly apply the administrative units for Thu Duc City in compliance with the institution of administrative manager that has a mayor as the city's leader instead of using a People's Committee like now.