The Ministry of Science and Technology has recently proposed the Government to repair Decree 24 to better management of domestic and import gold and jewelry products.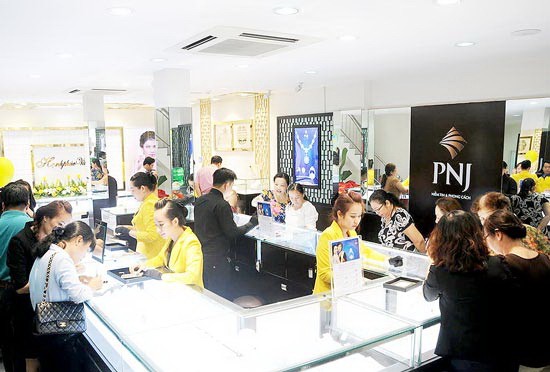 A jewelry stall of Phu Nhuan Jewelry Joint Stock Company (Photo: SGGP)
The current decree has just focused the top or the circulation of gold products in the market instead of production and import, said the ministry.
Four years after the decree was implemented, many businesses have been confused in implementing it and unaware of relevant regulations, causing many penalized.
During a recent interagency inspection in HCMC, 51 out of 67 gold businesses were fined for breaking quality, labeling and measurement standards of gold products, according to the HCMC Department of Science and Technology.
The Saigon Jewelry Association (SJA) said that most of gold businesses in the city are of small scale so they have paid little heed to regulations in the gold industry.
The Ministry of Science and Technology has also inspected gold shops in 51 out of 63 provinces and cities in the country and found that 25 percent them, equivalent to 423 out of 1,720, break regulations.
Mr. Nguyen Van Dung, SJA chairman, said that the decree officially took effect in May 2012. The ministry and the State Bank of Vietnam (SBV) have issued circulars guiding its implementation.
The association has also hosted many seminars for the purpose however businesses have so far yet to be fully aware of relevant regulations.
At a recent conference hosted by SJA, many businesses questioned why jewelry businesses have to take responsibility for the quality of gold and jewelry products that they do not directly produce.
They just buy gold from licensed wholesalers and establishments with clear contracts but when authorized agencies find non-standard gold, shop owners will be fined not producers.
Chief inspector of the city Department of Science and Technology Phan Van Dong said that current regulations require gold sellers to be responsible for the products they trade and distribute. Hence when inspectors spot quality violations, they will penalize the sellers first.
If they have sufficient invoices and contracts with suppliers or producers of the products, they can take them to the court in case the two sides fail to reach an agreement.
Another confusing regulation concerns inventory jewelry before the Ministry of Science and Technology's Circular 22/2013 took effect.
Specifically, some businesses have a large volume of jewelry in stock since ten years back, their quality is not like current regulations. Hence, they must be reprocessed to sell in the market.
The processing will raise a huge cost and gold loss for businesses. So they seek authorized agencies' permission to label these inventory gold according to their ages and sell at a reasonable price.
Still, Mr. Dong affirmed that businesses are only entitled to process and label gold products if they are certificated to do so. Unless they are not permitted to change the products' codes, labels and gold contents on their own.
Another problem according to businesses is that existing regulations require them to show too much information on labels measuring 2x1 centimeters. The information comprise product names, symbols, producers, gold content and quantity.
Worse, this regulation forces them to reveal the names of producers and processing establishments, which will send customers to directly buy gold at processing establishments for low prices, said owner of Kim Hong An jewelry shop in District 1.