Local governments must review proposed resort developments and report on them to the Ministry of Planning and Investment prior to November 31, the ministry has ordered.
Projects to be reviewed include proposed resorts and other tourism zone developments, including amusement parks, casinos, hotels, golf courses and high-end residential projects.
The ministry issued the decision in response to a widening perception that resort projects were mushrooming out of control and were being developed without standards.
"I think the ministry wants to check out whether there are already enough resorts," said the deputy director of real estate developer CenGroup, Pham Thanh Hung. "Then they will restructure the sector."
The general director of a HCM City-based real estate company who asked to remain unnamed told Viet Nam News, "Resort and leisure projects have the potential to dominate the real estate market in Viet Nam, but the sector lacks co-ordinated development compared to neighbouring countries."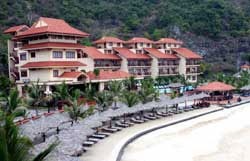 Local governments will have to review proposed resort developments and report on them to the Ministry of Planning and Investment. View of Cat Ba Sunrise Resort in northern Hai Phong City. (Photo: VNS)
The sector had too many small and poorly-equipped resorts scattered from north to south, agreed Hung. Meanwhile, other provinces with tourism potential were without projects.
"What we really need is to set up long-term master plans to intensively develop resort and entertainment zones in areas of high-potential like Da Nang, Phan Thiet-Nha Trang and Ha Long Bay," Hung said.
A number of projects were also being developed under the label of "eco-tourism" with little oversight or understanding of what the label signifies. Several projects that have been labelled as 'green' were not congruent with sustainable design principles, said HCM City Economics University lecturer Nguyen Xuan Chau.
Viet Nam lacked environmental standards for real estate developments, and a number of putatively 'green projects' were being located in scenic locations where their impact on the environment was even more questionable, Chau said.