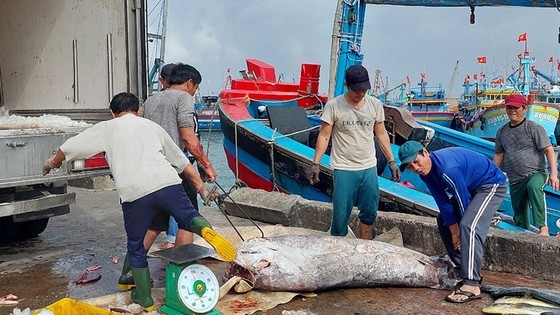 Local gov't determined to take decisive action against IUU
Nguyen Thanh Chung, Chairman of the People's Committee of Ky Xuan Commune in the Central Province of Ha Tinh's Ky Anh District said that the weather was favorable and the sea was calm on these days; thus, local fishermen had offshore fishing trips and continuously caught huge batches of anchovies, selling at high prices. Fishermen in communes Ky Xuan, Cam Xuyen, Loc Ha, Thach Ha, Nghi Xuan and Ky Anh Town averagely caught 5 tons per day selling at the prices of VND40,000-VND45,000 a kg to wholesale markets and restaurants.
According to the Fisheries Sub-Department of Ha Tinh Province, during the Lunar New Year of 2023, fishermen in the province went to sea and caught roughly 3,000 tons of seafood of all kinds earning VND150 billion.
Elsewhere in Binh Dinh Province, the provincial Department of Fisheries announced nearly 3,000 fishing boats in the province reaching out to catch fish during the Lunar New Year. Currently, fishing vessels have come ashore with an output of nearly 16,000 tons including nearly 1,200 tons of tuna. The seafood sector of Binh Dinh Province targeted the fishing output at sea of 275,000 tons with 12,000 tons of tuna.
Meanwhile, according to the Department of Agriculture and Rural Development of Thanh Hoa Province, right after the Lunar New Year, more than 3,000 fishing boats in the province went out to sea at the beginning of the year. In 2023, Thanh Hoa aims to catch more than 208,000 tons of various kinds of fish for processing and exporting.
Chairman of Ca Mau Provincial People's Committee Huynh Quoc Viet directed the province's Border Guard Command to assign forces to be on duty 24/7 to monitor and keep evidence of those who committed illegal, unreported and unregulated (IUU) fishing for further penalties according to regulations to cases of fishing in violation of foreign waters.
The People's Committee of Ba Ria - Vung Tau province has assigned the local Police to coordinate with the Border Guard Command to continue verifying the case of 16 fishing boats of the province by themselves removing the cruise monitoring device without the permission of authorities. Previously, the Chairman of the People's Committee of Ba Ria - Vung Tau Province decided to impose more than VND2.5 billion fines on four fishing boat owners living in Long Dien District for not having fishing logs and hiding evidence.
The People's Committee in the South-Central Province of Binh Thuan has just issued a plan to implement key and urgent tasks on combating illegal, unreported and unregulated fishing in the area. The province required fishing vessel owners and captains to sign a commitment not to violate foreign waters as well as make a list of fishing vessels that have been often violating foreign waters for strict management and control. All fishing vessels in the province completed the registration.