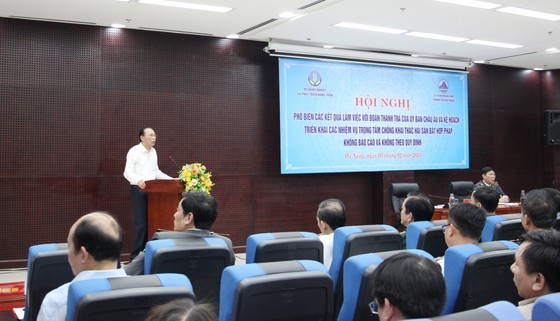 Deputy Minister of Agriculture and Rural Development Phung Duc Tien speaks at the meeting
The Directorate of Fisheries under the Ministry of Agriculture and Rural Development informed about the results of working with the EC recently that the EC recognized Vietnam's efforts in recent years as well as the Southeast Asian country's readiness to continue to improve and its openness to the EC's recommendation.
According to EC, Vietnam's legal framework is now comprehensively in line with international standards; however, the implementation is still limited and uneven.
After paying a visit to Khanh Hoa province, EC inspectors appreciated the good coordination between the authorities involved in combating IUU (illegal, unreported, and unregulated ) fishing.
Fleet monitoring has improved; however, the number of fishing boats disconnecting with local authorities is still high; thus, it requires special attention from Vietnamese authorities.
At the same time, the EC delegation also pointed out issues related to the traceability and control of seafood imported in the form of containers. Along with that, there are still a number of Vietnamese ships seized in the waters of neighboring countries.
With the determination to remove the "yellow card" in the next inspection, the Ministry of Agriculture and Rural Development asked that localities clearly understand the regulations, legal documents and directives of the Secretariat and action plan, said Mr. Phung Duc Tien, Deputy Minister of Agriculture and Rural Development. Moreover, the Ministry urged to mobilize all resources to prevent and stop fishing boats and fishermen from violating foreign waters.
Under the Ministry's request, information on fishing vessels should be added to the national fishery database VNFishbase; plus, all fishing vessels entering and leaving the wharf must be checked. Certification of seafood traceability must be carried out. Last but not least, fishing vessels with over 15m in length equipped with a voyage monitoring system (VMS) must be anchored in accordance with regulations.
Increased supervision on handling IUU violations will be conducted regularly. Fishing vessels that do not maintain cruise monitoring connections will receive appropriate punishment. An investigation of Vietnamese fishing vessels violating foreign countries must be carefully carried out and penalties will be updated widely to deter others from committing the violation.
According to the Directorate of Fisheries, through inspection, by the end of 2022, 96.35 percent of fishing vessels have installed cruise monitoring equipment (VMS) while 86.7 percent of fishing boats are licensed. Roughly in the year, 157 vessels with a length of 24m lost connection.
At the Conference, the delegates discussed solutions to overcome the limitations in monitoring work against illegal, unreported and unregulated (IUU) fishing, in order to prepare the best equipment for EC testing in May 2023.