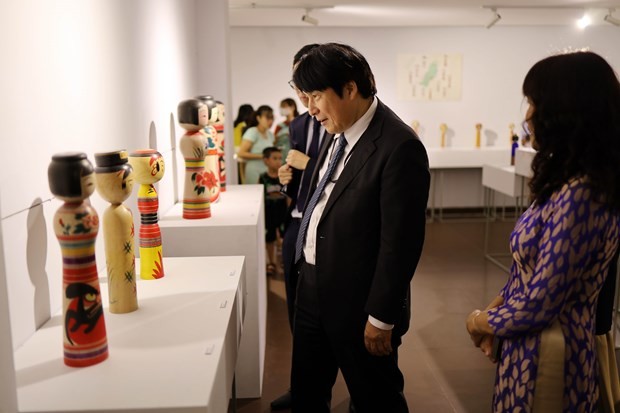 The Consul General of Japan in Da Nang, Yakabe Yoshinori and visitors at the exhibition (Photo: VNA)
Deputy Director of the Da Nang Fine Arts Museum Nguyen Thi Trinh said the exhibition displays 69 traditional and modern dolls made in Japan, including five that get inspiration from the Vietnamese culture.
The Consul General of Japan in Da Nang, Yakabe Yoshinori said the event is a significant cultural exchange activity, helping introduce the Japanese culture to Vietnamese people while enhancing mutual understanding and the sound relationship of the two countries. In one space of exhibition, visitors can explore 32 gorgeous dolls depicting various characters, from children to grown-ups, in different settings from daily life to theater.
Another space at the exhibition shows off the unique wooden doll Kokeshi provided by Tsugaru Kokeshi Museum. Kokeshi originated from the Tohoku (Northeast) region of Japan in the 19th century and is usually sold as souvenirs for children at the hot spring towns in the region. Each town has its own Kokeshi type, characterised by its unique pattern and technique.
On display are 12 types of Kokeshi in various sizes, accompanied by modern Kokeshi works, five of which are inspired by Vietnamese culture. Visitors will also have a chance to try on traditional Yukata clothes, the art of paper folding Origami, and take home cute little paper dolls.
The exhibition runs until June 20.