The 10-year-old establishment, the Huong Viet Traditional Dance Club is a bridge between musicians, folk song lovers and poetry fanatics.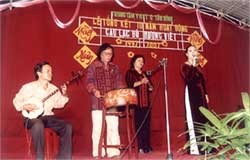 The club members perform Chau Van Singing, a kind of incantation music
Attracting a range of composers and music lovers of all ages, the club has held more than 60 programs in provinces across the country.
The club is especially famed for its poetry readings of works by the patriot poet Nguyen Dinh Chieu, which continues to be held on the anniversaries of his birth and death.

These readings have been broadcast on the Ho Chi Minh City, Dong Nai Television channels and done by the Nguyen Dinh Chieu Film Company.
The club comprises of 50 active members whose musical performances, compositions and poetry readings have been awarded several prizes and a collection of which has also been published.
Not only is the club keen to preserve traditional and folk songs from across Viet Nam's three regions: the North, the Central and the South but to date, Huong Viet is the sole club in Ho Chi Minh City that caters for the small community of poetry lovers, striving to preserve and develop the art-form.
The director of the club, artist Vu Ban, said that the club management board hopes that one day they will have the opportunity to perform in all provinces. He also expressed his anticipation that the club receives sponsorship from the public in order to continue the good work and for future expansion.