Torrential rainfall in most of the central region caused the slowly receding flood waters to rise again on Monday.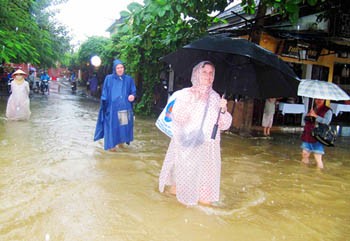 Foreign visitors wading through flooded road in Hoi An ancient town in Quang Nam Province (Photo: SGGP)
Sudden flash flooding has killed eight people with one still reported missing. Thousands of households in the lowlands are now submerged, while traffic remained disrupted and landslides in places have buried several houses.

According to the hydro meteorological station in mid central region, flood levels were rapidly rising above level 2 along rivers from Thua Thien-Hue to Binh Dinh Provinces on Monday, with some places crossing level 3 and expected to continue rising on Tuesday.
Flooding caused a landslide on a mountain in Tra Mai Commune of Nam Tra My District in Quang Nam Province, burying six houses and leaving 17 households homeless. Landslides continue to pose a threat to almost 1,000 students in some schools in the area.
While DT 616 road is coping with tens of landslides, other roads along the center of Nam Tra My District to communes have also been destroyed in many places, causing severe traffic gridlock. Both electricity supply and communication has been disrupted in several communes of the district.
River waters are overflowing and have isolated several areas of Dai Loc District.
Since noon Monday, 1,000 households are lying submerged in Hoa Vang District of Da Nang City.
Flood levels exceeded level 3 on the Huong and Bo Rivers in Thua Thien-Hue Province. Roads in Hue City like Nguyen Hue, Ngo Duc Ke, Le Hong Phong, Dong Da and Nguyen Khuyen were inundated under 0.5-0.7m of water.
Thousands of households had to remove their belongings to higher ground. Roads 4B, 14B, 8B running across Quang Dien, Phong Dien and Huong Tra Districts lay under 0.5-1m of water, compelling locals to travel by boat.
Phan Thanh Hung from the Steering Committee for Flood and Storm Prevention in Thua Thien-Hue Province said that sections of the Huong and Bo River banks continued to slice off, and police, army and youth were being mobilized to help local residents evacuate, along with their belongings.
Many areas in Quy Nhon City and Tuy Phuoc District in Binh Dinh Province are inundated. Traffic was congested on Road 640 connecting Tuy Phuoc town and Phu Cat District with many spots under 0.5m of water. Local people had to use boats and trucks to transport their belongings from flooded areas.

Hydropower plants release floodwaters
Nguyen Minh Tuan, chief officer of the Steering Committee for Flood and Storm Prevention in Quang Nam Province said that heavy torrential rains have forced the three larger hydropower plants to release floodwaters.
On Monday, A Vuong power plant on Vu Gia River discharged 300-700 cubic meters per second, Dak Mi 4 plant released 1,593 cubic meters and Song Tranh 2 plant released 4,000 cubic meters per second.
The same day, Liet Son irrigation reservoir in Quang Ngai Province also released floodwaters at 50 cubic meters per second.
According to Tran Van Em, deputy chairman of the People's Committee in Duc Pho District, residents of Duc Pho town and Pho Minh, Pho Vinh and Pho Hoa Communes have been informed and asked to prepare for evacuation.
Related article:
Residents flee landslide prone areas along Huong River