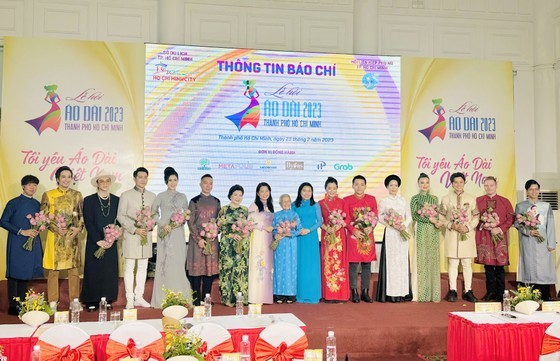 The HCMC Ao Dai Festival 2023 will be accompanied by many artists who have been chosen as the event's ambassadors. (Photo: SGGP)
The 9th edition of its kind themed "I love Vietnamese Ao Dai" will officially open at the President Ho Chi Minh Statue Park on Nguyen Hue Street in District 1 on March 3.
The festival will include a series of cultural activities, such as including parades featuring a large number of women wearing Vietnamese traditional Ao Dai on the main streets of Nguyen Hue, Le Loi and in the municipal Opera House, Saigon Central Post Office, Turtle Lake and tourist attractions in Thu Duc City and districts throughout the city on March 5; in-person and online beauty contests, Miss Ao Dai; Ao Dai design competition; exhibition of Ao Dai displaying designs of 24 fashion designers nationwide; an art street of Ao Dai at Lam Son Park and the square in front of the Opera House of the city; seminars on the beauty, preservation and development of Ao Dai; and more.
Activities will be held at historical and cultural relic sites, tourist attractions, and iconic architectural buildings in HCMC with the goal of reflecting the love for Vietnamese traditional dress and promoting the city's image as a safe, friendly and attractive destination in the reopening to welcome back tourists.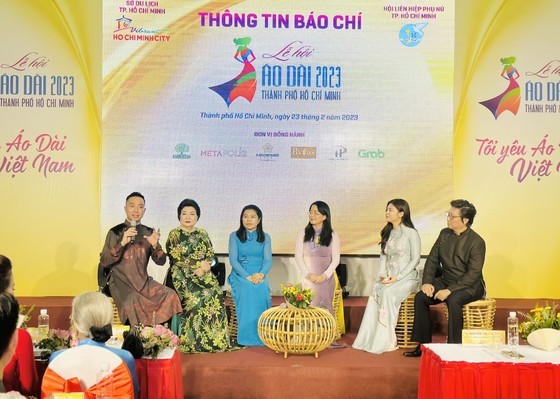 Representatives of the organization board of the festival, fashion designers and artists attend the press conference on February 23. (Photo: SGGP)
In March, the Ao Dai Museum will offer a five percent discount on entrance tickets and organize a hand-painted Ao Dai Contest, cake-making performances, a countryside market, a display of Ao Dai and others in response to the festival.
The HCMC Ao Dai Festival 2023 will be accompanied by artists who have been chosen as the event's ambassadors, namely People's Artist Kim Xuan; Meritorious Artists of Phi Dieu, Trinh Kim Chi and Dinh Linh; the family of Meritorious Artist Tuyet Mai; flutist Dinh Nhat Minh, musician of the Bong Sen Theater of Traditional Music and Dance who was honored with the title "Outstanding young citizens of HCMC in 2022"; psychologist Ly Thi Mai; Miss Universe Vietnam 2017 H'Hen Niê; the first runner-up title of Miss Universe Vietnam 2019 Nguyen Huynh Kim Duyen who also was the second runner-up at Miss Supranational 2022 pageant; fashion designer Do Trinh Hoai Nam; singers of Nguyen Phi Hung, Soobin Hoang Son and Kyo York; Cai Luong actor Vo Minh Lam; teacher Thai Duong; travel blogger, photographer Ngo Tran Hai An (also known as Quy Coc Tu).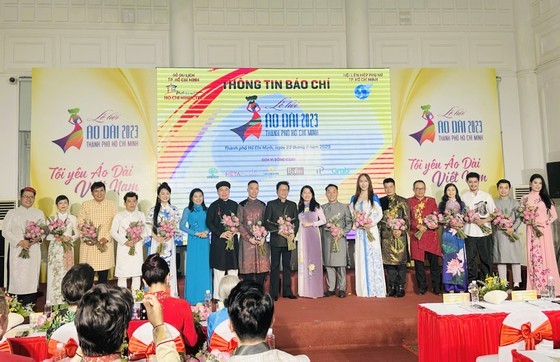 The HCMC Ao Dai Festival 2023 attracts 24 fashion designers throughout the country. (Photo: SGGP)
Additionally, HCMC plans to organize a festival of Ao Dai in the ITB Asia 2023, Asia's leading travel trade show which is scheduled to take place in Singapore in October to introduce tourism and cultural programs of HCMC to foreign visitors and develop HCMC Ao Dai Festival into an international tourism and cultural event, said Director of the HCMC Tourism Promotion Center.
The festival has become an annual event of the city and also a cultural tourism product that typically attracts a large number of visitors contributing to preserving and promoting Vietnamese traditional dress as well as spreading pride and love for Ao Dai.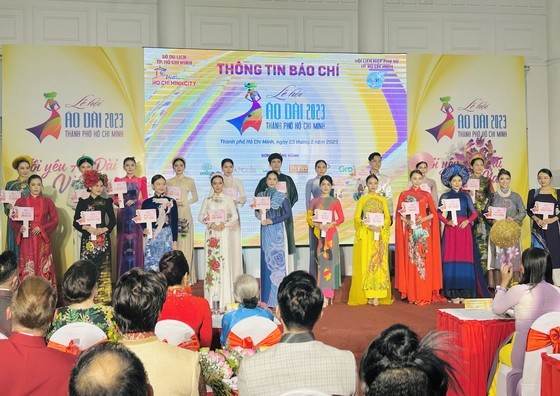 A performance of Ao Dai at the press conference (Photo: SGGP)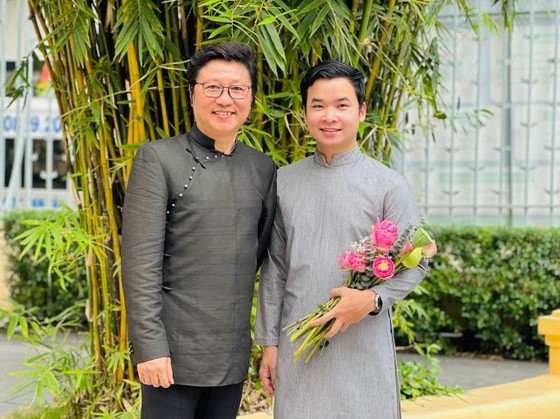 Fashion designers Si Hoang (L) and Vu Huy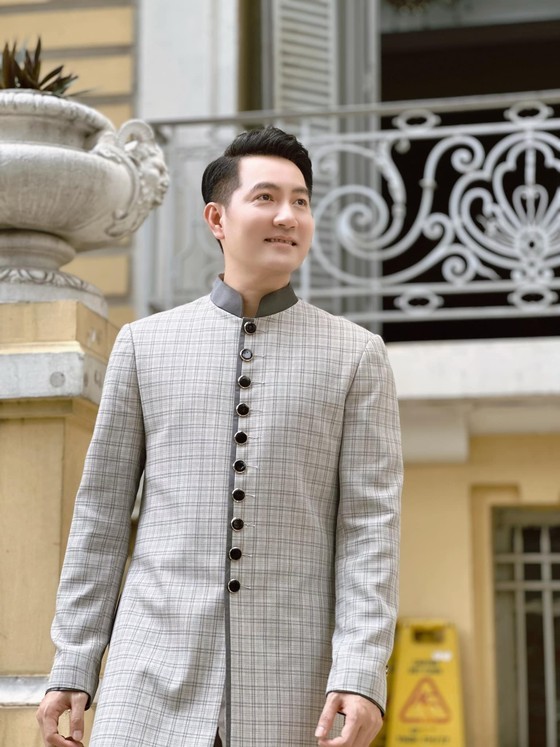 Singer Nguyen Phi Hung, one of the festival's ambassadors (Photo: SGGP)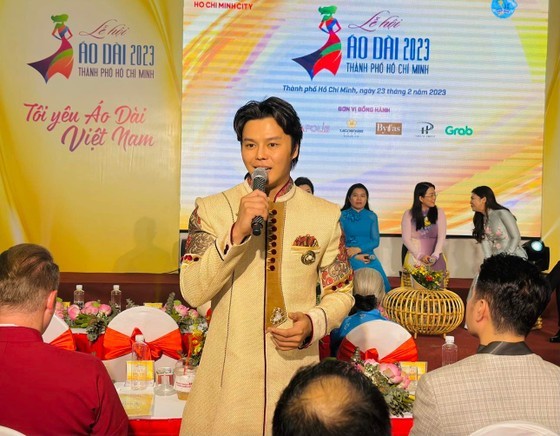 Cai Luong actor Vo Minh Lam, one of the festival's ambassadors (Photo: SGGP)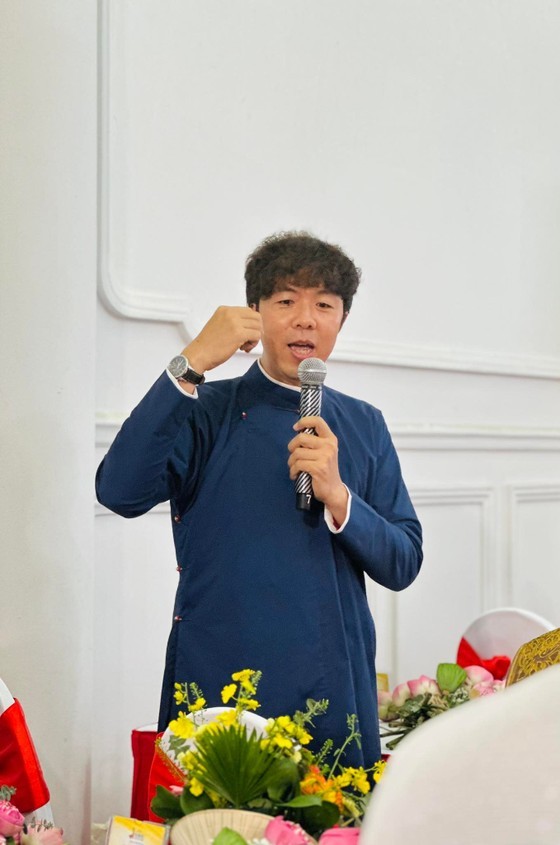 Photographer Ngo Tran Hai An (Photo: SGGP)