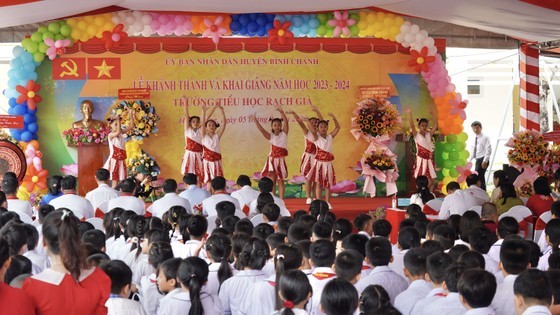 New Rach Gia School in Binh Chanh District was opened for the new school year
As districts in the city saw an additional 35,000 students this school year, local administrations are looking for ways to serve students' learning needs.
Ten new school buildings were recently opened and added more than 4,400 new school seats across three boroughs.
According to a report from the Department of Education and Training of Ho Chi Minh City, some 48 more school construction projects were finished and added 672 new classrooms for the 2023-24 school year. Of these, before September 5, 27 projects were opened with 441 classrooms. From now until the end of 2023, 21 more projects are expected to be put into use with 231 new classrooms. By the end of August 2023, the southern metropolis had 294 classrooms per 10,000 population of school age (from 3-18 years old); however, the rate is not equal in districts.
Chief of Office of Ho Chi Minh City Department of Education and Training Ho Tan Minh said that from now to 2025, approximately 4,500 new classrooms will be built as per the city education sector's plan.
Of 4,500 new classrooms, the city will invest in 3,000 classrooms while 1,500 classrooms will be built from social contributions.
In the context of the lack of land funds to build schools, Ho Chi Minh City proposed that the Ministry of Education and Training adjust Circular 13 issued on May 26, 2020 on school facilities allowing the construction of new school buildings.
In response to this proposal from Ho Chi Minh City, Deputy Minister of Education and Training Pham Ngoc Thuong disagreed because many localities will no longer prioritize land funds for education.
However, the Ministry of Education and Training will continue to review and consider the criteria suitable for the specific characteristics of localities with high mechanical population rates and difficulties in land funds for school construction in the upcoming time.
Mobilizing social financial resources
Recently, at the conference summarizing the 2022-2023 school year and implementing tasks for the 2023-2024 school year, Director of Ho Chi Minh City Department of Education and Training Nguyen Van Hieu said that every year, Ho Chi Minh City sees an increase of 20,000-30,000 students. Over the years, to ensure enough study space for people, many schools have had to convert functional rooms, and labs into classrooms.
The head of the city's education sector admitted that this is only a temporary measure because if maintained long-term, it will affect the quality of education. In the 2022-2023 school year, many districts such as District 12, Go Vap, and Binh Tan will arrange for students from one school to temporarily study in empty rooms of another school or students of two classes will share the same room thanks to the flexible schedule between classes.
This solution, on the one hand, helps increase classroom space, but also creates many shortcomings such as elementary school students sharing desks and chairs with middle school students of inappropriate height. Teachers and students also have to learn on Saturdays to ensure enough number of periods a week. In the long term, district education authorities said there is a need for radical solutions to increase the number of classrooms for two shifts of teaching and learning in a day under the requirement of the 2018 General Education Program.
To achieve the goal of 300 classrooms per 10,000 people, Chairman of Ho Chi Minh City People's Committee Phan Van Mai said that the city will mobilize all financial resources to invest in building new schools. In particular, the plan to build field schools in densely populated areas without enough classrooms is under further consideration. These schools will be opened for 5-10 years to meet teaching and learning needs before new spacious schools are built.
In addition, according to a representative of the Ho Chi Minh City Department of Education and Training, along with increasing the size of the public school system, this department is advising the Ho Chi Minh City People's Committee on many policies to support non-public schools such as tax and land incentives, administrative procedures to mobilize private sectors to invest in building schools in the form of public-private partnership. Instead of investing in building a new school, the city should take advantage of existing facilities of non-public schools.