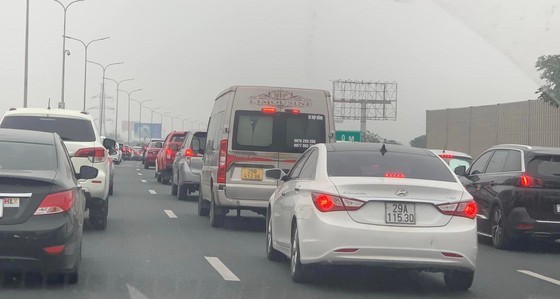 Prolonged traffic jam on Phap Van – Cau Gie Expressway yesterday afternoon

Accordingly, traffic jams can be seen on major routes of Hanoi and HCMC at peak time (the 19th and 30th days in the last month of the previous Lunar Year and the 4th and 5th days of this Lunar Year). This is due to sudden increases in traffic volume, far exceeding the capacity of the current traffic infrastructure at the entrances to these cities.
In the North, congestion happened on Phap Van – Cau Gie route, Ring Road No.3 of Hanoi, National Highway No.1 passing the provinces of Ninh Binh and Thanh Hoa. In the South, serious traffic jams could be spotted also on National Highway No.1 passing Dong Nai Province, on HCMC – Long Thanh – Dau Giay Expressway, the neighborhood of Cat Lai Ferry Station and Rach Mieu Bridge, National Highway No.51 towards Da Lat City and Ba Ria – Vung Tau Province.
Even though electronic non-stop toll collection (ETC) stations have been installed on many highways and expressways, local congestion still took place in various toll plazas on Hanoi – Hai Phong Expressway, Phap Van – Cau Gie Expressway because of sudden rises in traffic volume compared to the regular flows.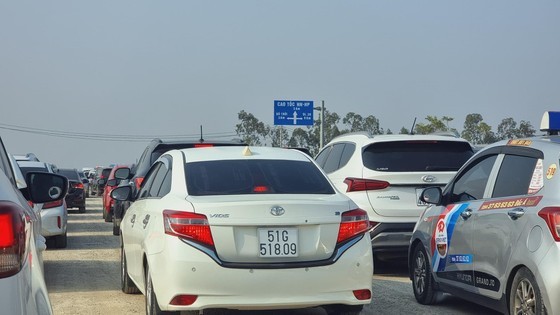 Traffic congestion on Hanoi – Hai Phong Expressway yesterday afternoon

In the afternoon of January 26 (the 5th day of the new Lunar Year), which is the last day of the Tet holiday, all entrances to Hanoi were stuck for a long time owing to dense traffic.
Particularly, the intersection of Dai Xuyen, Liem Tuyen had a 3-to-4-kilometer traffic jam, asking the traffic police to reroute vehicles to the old National Highway No.1; but the situation was still slowly addressed.
The exit from expressways and Ring Road No.3 of Hanoi also saw prolonged congestion.