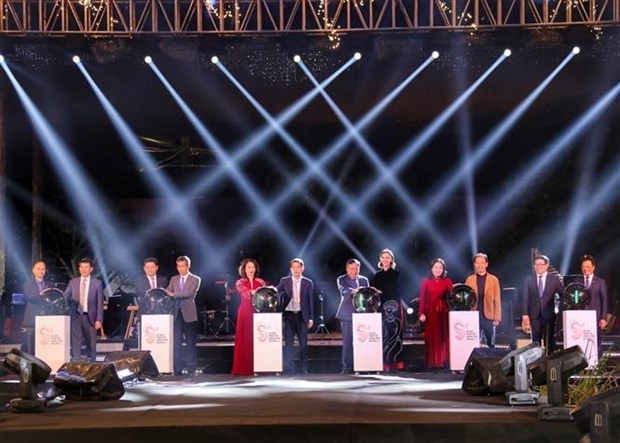 Delegates press buttons to launch the festival (Photo: VNA)
The festival, in its second edition, is jointly organised by the municipal People's Committee, the Vietnam Association of Architects, and the Vietnam Railway Corporation and relevant agencies.
Addressing the opening ceremony, Vice Chairwoman of the Hanoi People's Committee Vu Thu Ha highlighted Hanoi's various actions to realise commitments to building a creative city after nearly four years of becoming an official member of the UNESCO Creative Cities Network.
The city has organised the annual Hanoi Creative Design Festival along with a series of activities to rebuild urban areas and promote cultural heritage as an effort to continue to promote the capital's potential and strengths, raise community awareness, toward connectivity and expansion of cooperation between domestic and international organisations, experts and businesses in multiple fields of creative design and cultural industries, as well as realise its commitments to UNESCO when by joining the Creative Cities Network.
Ramla Khalidi, UNDP Resident Representative in Vietnam, said Hanoi, with its tradition, possesses potential to become a pioneering unit in all development fields. The festival, one of Hanoi's initiatives, is an example for the city's success in realising the vision to become a creative capital of Vietnam.
The festival's venue - the nearly 120-year-old industrial heritage space has been transformed into a creative complex with unique architectural works and hosts close to 60 activities, exhibitions, and art and community experience events.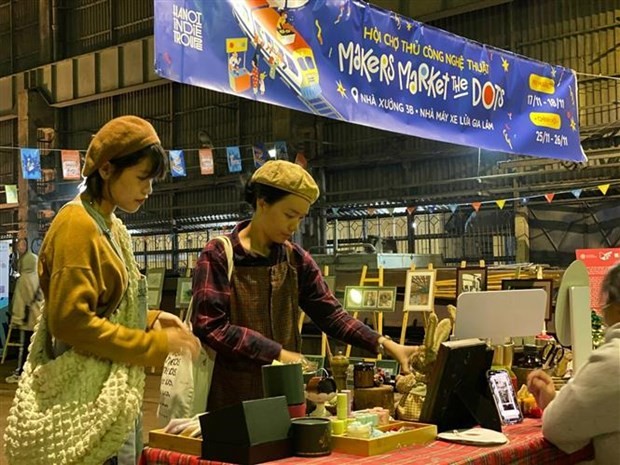 Festival goers visit a handicraft booth at the festival (Photo: VNA)
Themed "Flow", the festival, which lasts until November 26, targets not only the creative community but also art lovers, aiming to engage them in the activities.
Community activities will be organised on the mudflats on the Hong (Red) River, besides a cycle tour, and design contests, among others. There will be a fair showcasing diverse products in handicraft, creation, fashion, and communications.
To give more experiences to visitors, organizers will offer technology activities such as three-dimensional painting and virtual tours.
Besides, workshops and seminars on creation to be held within the framework of the festival will offer a platform for creators and managers to seek ways to realise Hanoi's desire for reform and creation.
Notably, there will be a special train connecting the two sides of the Red River, departing from the Hanoi Railway Station, going through Long Bien Bridge - a symbolic Red River crossing, to the Gia Lam Railway Station, from where participants will walk to the former Gia Lam Train Factory, which is converted into a community space with booths displaying domestic creative brands and products in many fields from handicrafts to fashion and communication-advertisement.
Hanoi became an official member of UNESCO's Creative Cities Network in 2019.