As Tet (Lunar New Year) festival approaches, more coach drivers have started transporting goods, a practice that could threaten the vehicles' passengers, according to transport authorities.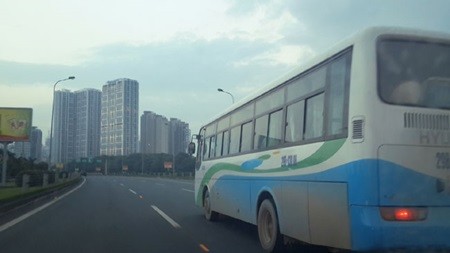 A public bus runs on the Lang-Hoa Lac road in Ha Noi. — VNS Photo Thai Ha.
A Vietnam News Agency reporter observed drivers and their assistants hurriedly loading goods onto their 30-seat and 40-seat coaches at the Ha Noi-based Luong Yen coach station. They even dismantled chairs near the back of the bus to make more room for the goods, which – if flammable – pose a risk to passengers.
Nguyen Thanh Binh, whose husband is a driver for Son Binh Company, said that as Tet neared, transporting goods became more lucrative than transporting passengers.
Transporting goods could earn Binh's husband millions of dong per trip, while he sometimes suffered losses transporting passengers, she said.
Using a coach to carry goods is about 30 to 50 per cent cheaper than using a lorry, according to the VNA reporter's research. For example, it costs VND1 million (US$47) to transport a 50-kg cask from Ha Noi to the central province of Ha Tinh by lorry, but only VND300,000 ($14) by coach.
Nguyen Tat Thanh, director of the Giap Bat Coach Station, said the Directorate for Roads of Viet Nam and local departments of transport asked transport firms to ensure customer safety, especially during Tet. But the number of passengers increases around the holiday, making it more difficult for companies to supervise all their coaches.
Sometimes managers could not check for the goods, because drivers would load and unload goods outside the station, Thanh said.
The Ha Noi Department of Transport assigned inspectors and police to improve inspections and prevent unsafe coaches from leaving the station, said Nguyen Hoang Linh, the department's deputy director. The inspectors had the right to temporarily seize coaches violating the law, Linh said. Coaches are only permitted to carry passengers and their luggage.
Chairman of the Ha Noi Transport Association Bui Danh Lien said the municipal department of transport and coach station management boards should create more detailed regulations to prevent coach drivers from transporting flammable goods.