GOASEAN, the world's first ASEAN travel channel-tune, has named Ha Long Bay in its list of nine best sunset selfie spots in Southeast Asia.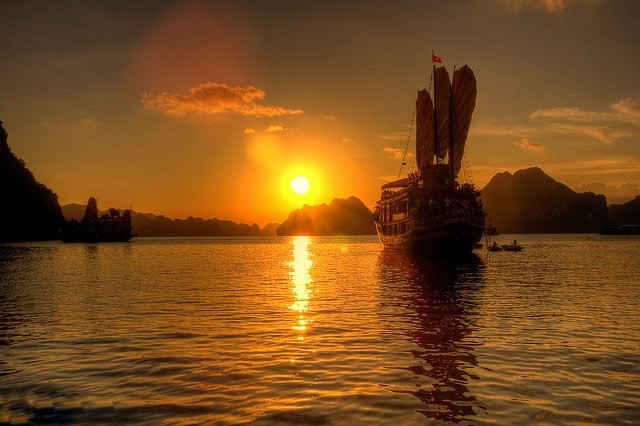 When the sunset comes in Ha Long Bay (Source: halongbay-online.com)
"Let's face it: one of the main reasons we snap photos when we travel is to prove that we were there - and there is no better proof than a selfie," the site says.
The list includes "the most selfie-friendly, instagrammable locations with glorious sunset views".
Ha Long Bay is Asia's ultimate heart-stealer thanks to its beautiful floating villages and emerald waters, it says.
"The Bay of the Descending Dragons already carries an intoxicating and mystical atmosphere but at dusk – with the sun soaking its last rays into the bay – the feeling is intensified 100 percent."
It also suggests that visitors should stay a night or two aboard a traditional junk and capture the sunset up close from the waters for the ultimate selfie.
The others are The Helix Bridge (Singapore), GunungRinjani (a volcano within a volcano, Lombok, Indonesia), Railay Bay (Thailand), The Rock Bar (Bali, Indonesia), Bagan (Myanmar), Manila Bay (the Philippines), VangVieng (Laos), and Grand Hyatt (Kuala Lumpur, Malaysia).-VNA