Vietnamese-Belgian singer Pham Quynh Anh, who won millions of fans with her hit song, Bonjour Vietnam, shared her feelings and experiences with SGGP on her first ever trip back to her homeland.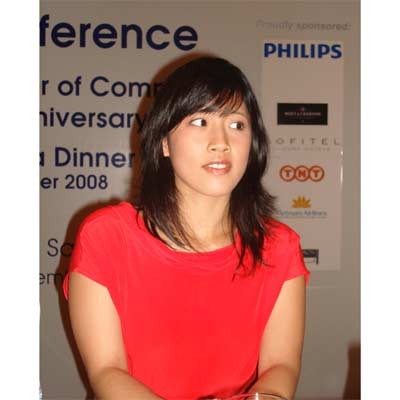 Pham Quynh Anh usually smiles during the press conference (Photo: Truong Son)

Q: First of all, what to you feel about your reception here? Is it similar to when you perform in Belgium?
I'm so much surprised by all the people out there, especially the photographers. I did not expect to receive so many greetings. I decided to appear in the press in the role as a singer going to perform at the gala dinner of Eurocham (European Chamber of Commerce in Viet Nam), so I suggested that questions and attention of everyone here be focused on Eurocham. But now, see, it's..amazing.
In Europe, because of the cultural difference, people encourage singers differently. But for me, after a few days of being here, I totally feel like "I'm home". While I was walking along the street some days ago, I felt very friendly glances from the pedestrians around and I no longer felt uncomfortable, or that "this place is so strange to me".
Q: So after three of your ten days in Vietnam, what are your impressions about your country so far?
It's a wonderful country with so many things to see and taste. But my first impression came immediately after I left the airport. So many motorcycles ran on the street and we we were surrounded by them. This was the first time I could see that. It was amazing and something that I never thought I would see.
Q: Do you plan to visit your parents' hometown this time?
Well, it's so hard to make that plan come true on a ten-day trip with so many other things to do. As you know, my father was born in the north while my mother was born in south. At beginning of this trip, I had a chance to visit my mother's school. I took a lot of photos of this place and children there and probably will show them to my mother and tell her what they look like now. But I feel a little sad not being able to back to where my parents were born and grew up.
Q: So, during these days, where did you go?
Due to the busy schedule, I hardly travel out of city these days. I stayed in Saigon and walked around to discover things nearby. I'm very attracted to the handicraft products and was surprised to learn that it takes a lot of time to finish one. I also visited some pagodas and the Cho Lon in district 5. It's seemingly a messy and crazy place, but I definitely like it.
I've tried the food at some local food shops and restaurants. I had a chance to try the Pho (Vietnamese noodle) right in my own country, particularly the Pho Pasteur food shop in district 3. I can say that it's much better and different to the taste I had in Europe. I also tried, for the first time, some dishes from central Viet Nam, and love them, especially because I cannot find any of them in Europe.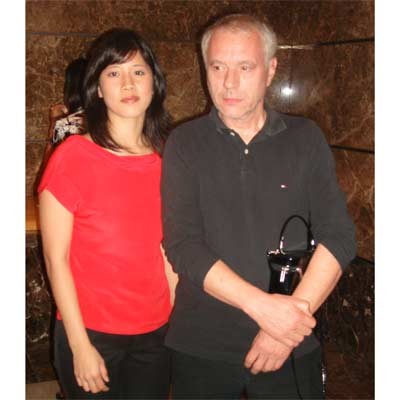 Pham Quynh Anh and her manager, Mr, Bernard Carbonez at the press (Photo: Truong Son)

Q: Can you say something about your path to music and to your current career? What was the motivation for you to enter the "Pour la gloire" contest of Radio télévision belge de la communauté française in Belgium when you were only 13?
Actually everything kind of began with a TV competition, as you know, and my father encouraged me to go for it. At the beginning, I was so confused and did not agree with his recommendation. I thought :"No no, I will never manage to pass the selection. It will be so difficult". But my dad did not give up and continued to irritate me so much that I thought to myself " Ok, I'm on, I'm going to make it, I'm going to try". Finally, as one went on, I eventually won the competition.
A very simple chance meeting introduced me to my manager, Bernard Carbonez and he introduced to me to my producer for my first CD, who had worked with Marc Lavoine. At that time, Marc Lavoine was looking for someone for a duet song called "J'espère" (Hope). We met each other one Wednesday and listened to the song together and tried recording together straight away. It took only one afternoon to finish. It was awesome.
Later, my manager asked Marc Lavoine to write a song about the country of origin that I had never known. And he did it.
Q: So before this proposal by Eurocham to perform in Vietnam, did you any receive any other invitations from other associations and entertainment companies?
Yes, I did but I refused them all. The song leaking via internet before the official release date was an accident. We refused all proposals since we thought we were not yet prepared enough for the debut show. We had to wait for a while till the single was released officially. Later, we received an invitation from Thuy Nga Paris By Night and decided that it was a good chance to appear before my people. I made it for the first time and this time with Eurocham is the second.
Q: So how about your debut CD? Have you finished it already?

No, not yet. We just finished a few demos but have not yet decided which songs would appear in it. I have also cooperated with some famous French songwriters, including Marc Lavoine. We hope to bring it to public audiences in Belgium next year but it is difficult to tell the exact date for the release. In this album, I co-wrote lyrics for three songs.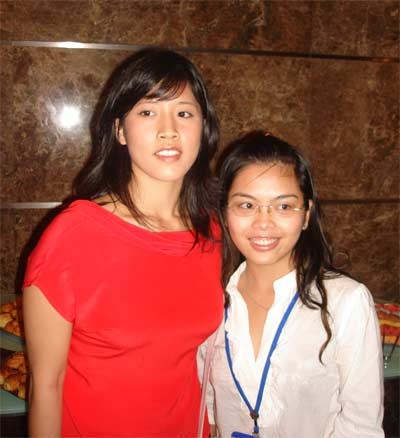 Pham Quynh Anh is so much surprised to have a fan working as a press reporter (Photo: Truong Son)

Q: Bonjour Vietnam was recorded when you had not known or seen your country and people. This time, you are here, and you have seen and met the people. Do you feel any difference between what you thought about Vietnam and what you see now?
When staying here, I do not feel much difference from what I had thought before. The only different thing is that I can see and feel it in reality. I'm so touched by everything around and truly feel what I did not feel before; not just about the lyrics but also the overall concept of my song. I believe that when I'm back in Europe, I can perform this song better.
Q: Can you tell us a little about your daily life and study in Belgium?

Well, like other students, I go to school, meet friends and study. My parents and I gather together at home during the weekends. My major is teaching, but now I have chosen singing as my career so I would like to study some courses related to music and composing. My most favorite subject is French culture and I'm very much excited to learn more about other cultures, especially my Vietnam.
Q: Do you have a message for the coming Tet?
I would like to say: "Wishing all the best for all Vietnamese people and I wish to come back next year to meet more people here". I'm not really good at Vietnamese so I can only say: "Quynh Anh Chuc Mung Nam Moi" (From me, Quynh Anh, Happy New Year). I know Tet is a very special day for Vietnamese, but in Belgium, people do not celebrate it as much, and I hope to have a Tet holiday in Vietnam in the future.
The grand gala dinner of the largest foreign business association in Vietnam, Eurocham, will take place at the Sofitel Saigon on November 14, marking its 10th anniversary with both food and music performances.

Three Michelin Star chefs, including Ulrich Helman from Le Ciel in Germany, Wout Bru from Chez Bru in France and Laurent Martin from La Frairie in Belgium will present their culinary creations; and three Vietnamese artists - Pham Quynh Anh, Hong Nhung and Duc Tuan - will perform with a European Jazz music band called The Cool Swing Express.

Eurocham has currently over 630 corporate members.
Related article: