The first Hoi An- Republic of Korea (RoK) fine art and handicraft exchange programme is taking place in Hoi An city, the central province of Quang Nam on December 2-4.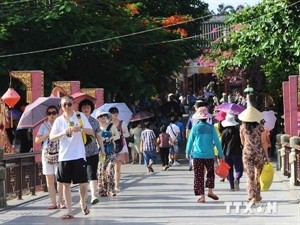 Foreign tourists in Hoi An Ancient Town (Photo: VNA)
The event is jointly held by Hoi An city and Gwuangju city of the RoK as part of activities to celebrate 15 th anniversary of the recognition of Hoi An ancient town as a World Cultural Heritage (December 4, 1999-2014).
According to Truong Van Bay, Vice Chairman of the municipal People's Committee, the progamme aims to boost cultural and artistic exchanges between the two cities, thus promoting their culture and traditional crafts.
A wide range of Hoi An traditional crafts are displayed during the event, including Thanh Ha lanterns and ceramics, Kim Bong carpentry, Cam Thanh knitting and Quang Nam silk.
Meanwhile, artisans from Gwangju (RoK) city perform their traditional crafts like weaving, papermaking and bamboo art.
In addition, Hoi An city also serves tourists with traditional art performances every night and provides them with a chance to discover the world cultural heritage of Hoi An through a photo exhibition.
As part of the programme, on December 2, the city joined hands with the International Labour Organisation (ILO) and RoK artisans to hold a seminar on developing fine arts and handicrafts in the two cities.