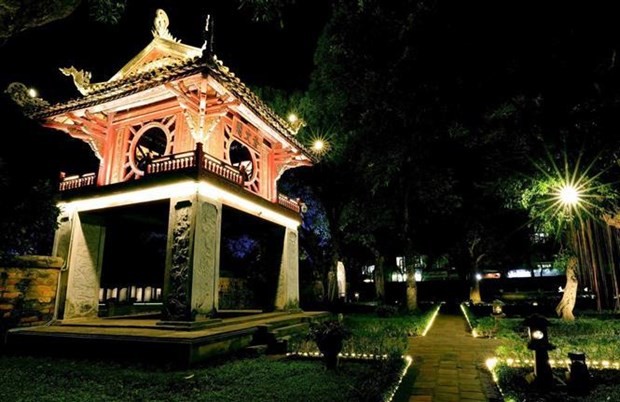 Van Mieu - Quoc Tu Giam at night (Photo: VNA)

The municipal Department of Tourism said on November 16 that the event aims at improving local tourism's competitive edge, attracting more visitors to the capital city, lengthening their stays and increasing their spending, helping develop night tourism into a key product to branch out the night-time economy in the city.
Over the past time, Hanoi has worked to develop many night tourism offerings to bring new experience to tourists, including night tours to the Van Mieu – Quoc Tu Giam (Temple of Literature), Hoa Lo Prison relic, the Thang Long Imperial Citadel and the Vietnam Museum of Literature.
The products to be introduced at the event are built based on the existing ones with a view to diversifying night-time tourism services.
Visitors will have a chance to engage in a feast of dazzling lights and contemporary folk music while attending the light art installation space "Hanoi night – a touch of emotions" from 20:00 to 22:00 on November 24, 25 and 26 where the light art works will tell the stories about Hanoi night.
Meanwhile, the light reflection art exhibition will offer a chance for visitors to enjoy Hanoi's tangible and intangible heritage such as Long Bien bridge, Quan Chuong gate, One-pillar pagoda, Hang Trong folk paintings, Chuong village's conical leaf hats, and Khue Van Cac (Constellation of Literature Pavilion).
At the event, the tourism department will also announce a decision recognizing Hoan Kiem lake and its surrounding and the Hanoi old quarter as a city-level tourist area, and launch the tourism photo contest "Welcome Hanoi City".
Also on November 24, 25 and 26, 3D Mapping presentation will be staged at Quan Chuong gate, spotlighting Hanoi's night tourism offerings as well as an array of local historical and cultural sites.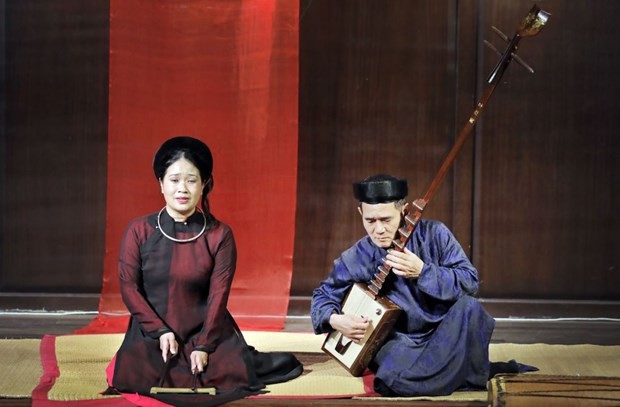 A performance of ca tru (Photo: VNA)
Other activities to be held within the framework of the event include an art workshop where artisans will guide visitors how to make Hang Trong folk paintings and bamboo and rattan products, and performances of traditional ca tru (ceremonial singing), cheo (traditional opera), and chau van ritual singing from 8:30 to 15:00 on November 24-26.