The southern province of Dong Nai is likely to enjoy 16.8 percent rise to over US$ 12.6 billion in its 2014 exports, the most impressive figure over the past three years, said a provincial official.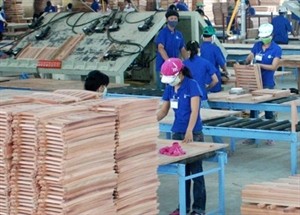 Workers at Scansia Pacific Wood Factory in southern Dong Nai province (Photo: VNA)
The result will allow Dong Nai to secure the fourth position nationwide in terms of exports, said Le Van Danh, Director of the provincial Department of Industry and Trade.
The turnover rise was attributed mainly to the shipments of apparel, footwear, wood and wooden products, machineries, equipment and spare parts.
It was also resulted from increases in demand from major traditional markets, including a rise of 15.2 percent by the US , 21.8 percent by Japan, and 25 percent by China, noted Danh.
A shift in foreign orders to Vietnam and the province in particular, where the tax rate for many products is reducing to zero percent thanks to signed free trade agreements (FTAs), was named as a significant contributing factor.
Besides, administrative reforms that were drastically sped up, have facilitated exporters' activity, he said.
According to Huynh Thanh Binh, Deputy Head of the provincial Customs Department, regular meetings held for enterprises and customs officials were helpful in promptly addressing difficulties arisen in export activity.
In 2015, Dong Nai targets US$ 14.4 billion in exports, up 15 percent year on year, which will double 2010's figure, said Danh.
He was upbeat that the goal is reachable since enterprises in apparel, footwear, wood and other areas have received orders from abroad to April, 2015.
He expected that more deals will come as a number of FTAs signed by Vietnam took effect, including those with Chile, Japan, and FTAs between ASEAN and India, the Republic of Korea and Australia.
According to the Dong Nai Department of Industry and Trade, in 2015, the province will continue strengthening trade promotion, including sending delegations to exhibitions and fairs abroad to expand outlets.
Dong Nai, together with Binh Duong, Tay Ninh, Ba Ria-Vung Tau, Binh Phuoc, Long An and Tien Giang provinces and Ho Chi Minh City, form Vietnam's southern key economic region.
The province, Ho Chi Minh City, and Binh Duong are amongst the most attractive FDI destinations in Vietnam.