Several nursery school teachers have quit their jobs since the beginning of the new academic year, complaining of excessive hard work and very low wages.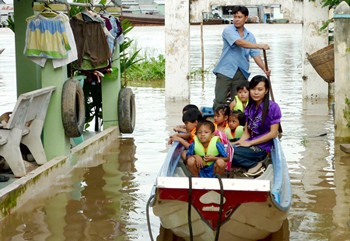 Teachers and children commute by boat to Vinh Hoi Dong Nursery School in An Giang Province (Photo: SGGP)
Nearly 100 nursery school teachers resigned during the previous school year in Ho Chi Minh City for the same reasons.
At the beginning of the new academic year, 8 teachers resigned from their posts in District 5 alone. Other districts also faced a similar loss of nursery school staff. This has added to the education industry's claim that there was a shortage of 500 teachers this year in both private and public schools.
Vo Ngoc Thu, head of the Education and Training Department in District 5 says that presently the school earnings of tuition fees and other benefits were too low for sustenance. The salary of a newly inducted nursery teacher is a mere VND1 million a month.
Moreover with the current outbreak of hand-foot-mouth disease, nursery teachers are being overworked, having to prepare meals for kids, bathe them and clean their rooms.
A teacher who recently quit the Nguyen Thai Binh nursery school in District 1 lamented that the income was not even enough to pay for the fuel cost to and fro from school. With her house in Go Vap District, it was costly to commute to school by motorbike and travelling long hours by bus combined with the heavy workload at school was far too exhausting.
Ngo My Dung, principal of the nursery school admitted the many difficulties faced by teachers who were leaving due to low income, even though the school was trying to encourage them to stay.
Flood conditions have made life of teachers even more uncomfortable in the Mekong Delta. Young teachers have to commute tens of kilometers of dyke routes often with additional boat trips to reach a nursery school in An Phu District of An Giang Province, one of the worst affected localities in the delta.
Phan Thi My Ca, whose home is 18 kilometers from the school said that she spent VND600,000 for fuel and ferry trips, while her basic salary was just VND2million, despite working as teacher for the last 5-6 years.
Le Thi Mong Trinh, a teacher at Phu Hoi Nursery School said that most of the parents are quite poor. They usually go fishing at sea or to harvest their rice crops, leaving the children in care of teachers who have to wait extra hours after school before parents can pick them up.
The school gets over by 10:30am but teachers have to wait until 2pm for parents to pick up their kids, sometimes even having to pay for the child's boat ride back home from their own personal money.
Because of a shortage of funds, schools have been permitted by the education department to collect VND127,000 per student per year from parents for buying various school items. However, most parents are so poor they cannot afford that amount. As a result, teachers have to sometimes pay from their pocket for students' items.
Nguyen Thanh Binh, director in the Department of Education and Training in An Giang Province said that they have proposed to the provincial authorities to build apartment housing for teachers whose homes were too far from schools. The department is also spending VND8 billion (US$38,000) for national key programs such as equipping schools with more study equipment.