Farmers around the country have struggled with diseases killing their rice crops and pigs, while the Government assistance has been low and specific remedies have not been found.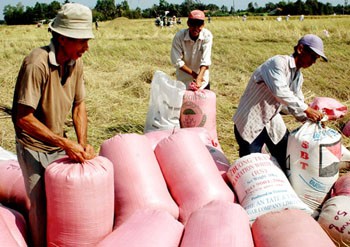 Farmers harvest rice in the Mekong Delta (Photo: SGGP)
Ten days ago, farmer Luong Thi Canh uncovered over 500 square meters of her rice fields had a strange disease that made the rice turn saffron and unable to grow properly. Canh is in Hoa Son Commune, Hiep Hoa District in the northern province of Bac Giang.
The disease, which stunted rice even though she spayed chemicals and fertilized the fields, spread widely, frightening farmers in the Hoa Son Commune as crop losses equal hunger.
Nguyen Van Chinh, deputy chairman of Hiep Hoa District People's Committee, said that the disease is in other communes as well, affecting thousands of households.
Meanwhile, in the adjacent commune of Thoi Son, farmers have seen the return of another disease, which causes green fields to turn dull red with black stripes along the veins of leaves.
Experts from Agricultural University No.1 in Hanoi have investigated and said it is bacterial streak disease.
Nguyen Van My, owner of 2,000 square meters of two-month old sick rice field, said that last year his fields also contracted the disease, forcing him to burn the fields, as his buffalos refused to eat the sick rice.
While rice diseases have not ceased, Thoi Son pigs continued suffering from blue ear disease. The farmer My has lost a total of VND40 million (US$2,000), as 33 pigs recently died from the blue ear virus.
At the time My's pigs died, the Bac Giang Province had yet to declare the outbreak an epidemic. As a result, My did not received any assistance from the Government.
Some households in his village lost more than VND50-60 million and another pig raising farm even had to hire workers to bury about 700 suckling pigs as they died at the same time, he said.
In Thai Binh Province, the rice stripe virus and blue ear diseases have also plagued fields and pigs farms in Tien Hai District, said the district People's Committee chairman.
The rice stripe virus disease has rapidly spread in the province and become an epidemic in northern provinces, sending farmers racing to buy pesticides to save their crops.
Hoang Kim Giao, head of the Department of Livestock Production, said that during this recent blue ear epidemic, the northern region has destroyed tens of thousands of pigs. As a result, businesses have rushed to import pork.
The blue ear disease now has expanded throughout the southern region. Relevant authorities should take appropriate actions to stamp out the epidemic.
Concerning the rice stripe virus, Bui Sy Doanh, department head of Plant Protection said that the Government has yet to find specific remedies.
In related news, the Ho Chi Minh City's Department for Animal Health said that over 400 pigs infected with blue ear disease have been destroyed so far in District 12.
Meanwhile, the number of ruined pigs has reached 43 in the Mekong Delta Province of Hau Giang, according to the Vietnam Department of Animal Health.